Public comment period open for 2017 aquatic plant management plan
March 9, 2017
The public is invited to review and provide comments on the draft version of the 2017 South Carolina Aquatic Plant Management Plan through the South Carolina Department of Natural Resources (SCDNR). The plan is available online. Comments and suggestions must be submitted to the SCDNR in writing or e-mail and must be received by March 30, 2017.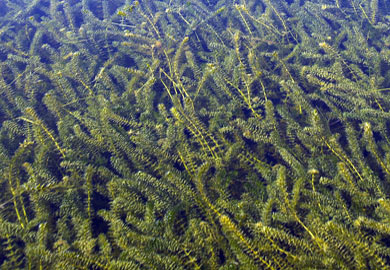 Millions of dollars have been spent to control the growth of invasive plants like hydrilla in South Carolina's lakes and rivers.
The SCDNR, in conjunction with the S.C. Aquatic Plant Management Council, is responsible for the management of nuisance aquatic plants in the state's public waters. Each year the SCDNR and the council prepare a plan that identifies aquatic weed problem areas, prescribes management strategies and determines funding requirements. Since the inception of the program in 1981, more than 160,000 acres of invasive aquatic vegetation in public waters have been controlled to improve public access and use.
Public input is an important part of the planning process, and comments on the draft plan are welcome. All comments must be received in writing by regular mail or e-mail by the closing date to ensure that they are given proper consideration in the final plan. No telephone messages will be considered. Send comments to:
Chris Page, South Carolina Department of Natural Resources
2730 Fish Hatchery Road
West Columbia, SC 29172

or via e-mail to: invasiveweeds@dnr.sc.gov.
Comments regarding additional areas of problematic aquatic vegetation on the state's public lakes and waterways should be sent to same address/contacts.
The Aquatic Plant Management Council is composed of one representative from several state agencies; the Governor's Office, S.C. Public Service Authority, S.C. Department of Parks, Recreation, and Tourism, S.C. Department of Health and Environmental Control, SCDNR, and the Clemson University Department of Fertilizer and Pesticide Control. The representative from the Land, Water & Conservation Division of the SCDNR serves as Chairman of the council. The council provides valuable interagency coordination and serves as the principal advisory body to the SCDNR on all aspects of aquatic plant management and research. Furthermore, the council establishes management policies, approves all management plans, and advises the SCDNR on research priorities.
---
DNR Media Contacts
After Hours Radio Room - 803-955-4000
More News