Norman Pulliam named chairman of SCDNR Board
October 18, 2017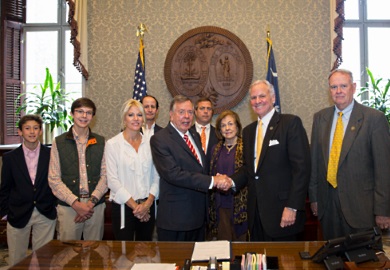 Gov. Henry McMaster appoints Norman Pulliam the new chairman of the SCDNR Board.
Norman Pulliam of Spartanburg has been named chairman of the S.C. Department of Natural Resources Board. Gov. Henry McMaster appointed Pulliam last week following Pulliamís many years of service as SCDNR Board vice-chairman, board member, and Law Enforcement Advisory Board chairman.
Pulliam graduated from Clemson University in 1964, where he received the Algernon Sydney Award as the outstanding senior. He then obtained a masterís degree in business administration from Harvard University.
Pulliam was the president of Pulliam Investment Co., Inc. from 1970 until 1999 when he was elected chairman of the board of directors. He remains with the company as a consultant. Pulliam is president of Pulliam Enterprises and is the former founder and chairman of First National Bank of the South in Spartanburg. Pulliam has extensive real estate experience and has developed, owned, and/or managed real estate valued in excess of a half-billion dollars in office buildings, apartments, condominiums, retirement communities, assisted living facilities, and commercial land development.
Pulliam is married with three children and is a member of First Presbyterian Church of Spartanburg.
The SCDNR Board meets on a monthly basis to discuss and set policies for the state agency, which is composed of five divisions: Wildlife and Freshwater Fisheries, Marine Resources, Law Enforcement, Outreach and Support Services, and Land, Water and Conservation.
---
DNR Media Contacts
After Hours Radio Room - 803-955-4000
More News