Secure boats prior to high winds
September 8, 2017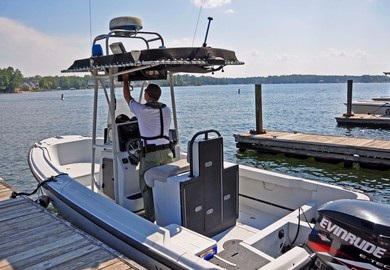 SCDNR Lance Cpl. Jason Smith secures his boat to the dock at Lake Murray.
With the likelihood of high winds being present on South Carolina waters in upcoming days, the S.C. Department of Natural Resources is urging boat owners to secure their boats.
If it is not possible to remove the boat from the water and secure it, add extra ropes and tie the boat to several different places on the dock to keep cleats from pulling out. It is a good idea to add ropes to floating docks that are old and/or not sturdy to keep them from breaking away. Also inspect the ropes to make sure they are in good condition.
It is the boat owner's responsibility to have any boats or docks that are swept away removed from the water. SCDNR does not remove boats and docks from the water, and recommends boat owners choose reputable, insured businesses to do so should boat owners not be able to do so themselves. Do not try to retrieve a boat or dock during windy conditions.
"It is not worth risking your life or a first responder's life over a boat or dock," SCDNR 1st Sgt. Hunter Robinson said. "Wait until the storm has passed and the winds and waves have calmed down before venturing out on the water."
Boaters who go out on the water after the storm should use extra caution, watching for trees, floating debris and power lines.
---
DNR Media Contacts
After Hours Radio Room - 803-955-4000
More News