S.C. Department of Natural Resources launches $2 million public-private fundraising project to protect threatened coastal birds
June 28, 2018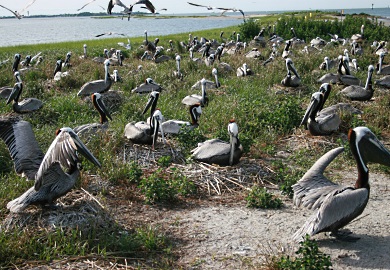 Brown pelicans once nested in large numbers on the SCDNR's Crab Bank Seabird Sanctuary. A plan to renourish the island using sand from the Charleston Harbor deepening project would provide pelicans and other coastal birds with new nesting habitat there. [SCDNR photo by Felicia Sanders]
Coastal bird populations face multiple threats, including habitat loss and degradation, human disturbance, increased predation and sea level rise. In fact, their populations have declined by 70 percent during the last forty to sixty years. South Carolina is a critical link in preserving these birds; numerous species of nesting and migrating birds visit our coastline each year, including a remarkable 38 percent of all the nesting brown pelicans on the East Coast during summer and some of the largest colonies of skimmers and terns in the Southeast.
To help address these threats, the South Carolina Department of Natural Resources (SCDNR) has established the South Carolina Coastal Bird Conservation Program, supported by groups including Audubon South Carolina, Coastal Expeditions, the South Carolina Coastal Conservation League and the South Carolina Wildlife Federation.
The program's first project will be to raise approximately $2 million needed to take advantage of a cost-share opportunity to renourish the Crab Bank Seabird Sanctuary in Charleston Harbor. Crab Bank, owned by the SCDNR, has been nationally recognized as an Audubon Important Bird Area. In the past, Crab Bank has provided nesting habitat for as many as 5,000 birds in a single nesting season, including large colonies of brown pelicans, terns, black skimmers, egrets and herons, and a few dozen American oystercatchers. Due to wave erosion and Hurricane Irma in 2017, all the available nesting habitat on Crab Bank was washed away, removing any opportunity for nesting birds during the 2018 season.
A long-awaited dredging project to deepen the federal channel in Charleston Harbor holds the key to saving Crab Bank. Overseen by the U.S. Army Corps of Engineers, the "Post-45" Charleston Harbor Deepening Project is expected to reach areas of the Lower Harbor beginning in 2019, giving the Coastal Bird Conservation Program until December 2018 to raise the funds needed to help cost-share the renourishment of Crab Bank with the dredged material from the deepening project. As many as 80 acres could be restored, which would provide 28 acres of upland habitat for nesting and loafing coastal birds.
"Crab Bank, if renourished, can produce hundreds of thousands of young birds over the next fifty years" said SCDNR Wildlife Biologist Felicia Sanders.
In addition to their intrinsic ecological value, these birds also play a huge role in a coastal tourism boom that is being fueled by outdoor adventure-seekers. Coastal tourism adds $9 billion per year to South Carolina's economy — a cash infusion that depends in part on healthy, abundant wildlife populations.
"Crab Bank is more than an island for thousands of nesting birds," added Sanders, "it's also a place where humans can get close enough in boats and kayaks to learn about the birds without disturbing them, and become more conservation-minded, which can result in more support for conservation of coastal birds around the world."
The clock is ticking on this once-in-a-generation opportunity, and the organizations involved are already hard at work raising funds from "lead" sponsors. Raising the money needed to save Crab Bank is an important goal, but SCDNR leaders anticipate that the conservation program will also be utilized to further restore and protect habitats all along the Palmetto State's coast, as well as increase nesting success and public awareness of coastal birds and their importance. As an economic leader and community partner in the Charleston region, the South Carolina Ports Authority is supporting the longevity of the Coastal Bird Conservation Program through a $10,000 annual commitment for ten years.
Individuals interested in supporting or learning more about this important endeavor will find more detailed information on the Coastal Bird Conservation website at: https://www.sccoastalbirds.org/.
---
DNR Media Contacts
After Hours Radio Room - 803-955-4000
More News