2018-2019 Hampton Wildlife Fund scholarship winners announced
October 10, 2018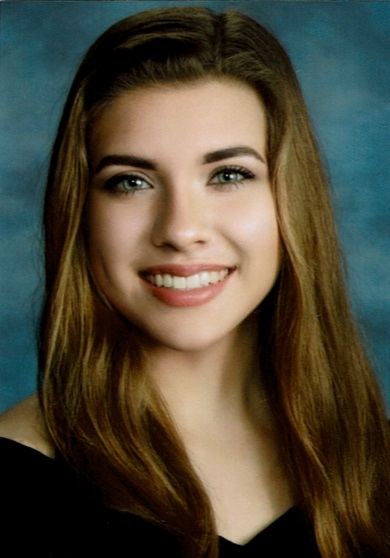 Anna K. Hewitt
The Hampton Wildlife Fund Inc. announced the winners of its annual scholarship program on Oct. 5 at its fall board meeting in Columbia.
The Hampton Fund, a private 501 (c) 3 organization, annually awards scholarships to South Carolina students who attend an institution of higher learning within the state.
The Hampton Fundís top scholarship, $5,000 a year for four years, was won by Anna K. Hewitt of Aiken, a graduate of the S.C. Governorís School for Science and Mathematics. Ms. Hewitt, who is attending Clemson University, competed with almost 100 students from across the Palmetto State for the organizationís top award.
Hannah Wade of Chester, a graduate of Chester High, won the James O. Thomason scholarship, $2,000 a year for four years. Ms. Wade is attending the University of South Carolina. The Hampton Fundís $2,000 one-year David M. Cline Scholarship for law enforcement/criminal justice was awarded to Aislinn Labra-Arteaga of Spartanburg, a graduate of Dorman High School. Ms. Labra-Arteage is attending Lander University. Mikela Campman, of Myrtle Beach and a graduate of Carolina Forest High School, was awarded the Wallace F. Pate Scholarship, worth $2,500 for one year. Ms. Campman is attending the University of South Carolina.
Robert D. Lamprecht of Moncks Corner, a graduate of Berkley High School, is the recipient of the S.C. Department of Natural Resources Robert M. Gifford four-year scholarship valued at $2,000 per year. Lamprecht is attending Wofford College. The Gifford Scholarship is limited to legal dependents of any full-time employee or retiree of the SCDNR. Mr. Lamprechtís father, Scott Lamprecht, is a retired SCDNR fisheries biologist.
The Hampton Fund also administers scholarships awarded by the S.C. Wildlife Law Enforcement Officersí Association (SCWLEOA). A $1,000 scholarship was awarded to Hannah Dukes of Gilbert and a graduate of Gilbert High, who is attending Clemson. Ms. Dukesí father, Lt. George Dukes, is a SCDNR wildlife conservation officer. Caroline H. Garner of Johns Island and a graduate of the Charleston County School of the Arts also won a $1,000 SCWLEOA scholarship. Ms. Garner is attending USC. Her father is SCDNR Wildlife Conservation Officer 1st Sergeant Greg Garner of Region 4, Charleston.
ďTo date, the Hampton Fund has awarded over $470,000 dollars to deserving students,Ē said Hampton Fund Executive Director Jim Goller of Beaufort. ďIím particularly excited that the Hampton Fund Board recently voted to seek funding for SCDNR employee continuing education scholarships, a move championed by the Fundís chair, Deidre Menefee of Wadmalaw Island and Hampton Fund Treasurer Sam Hiott of Charleston. This will begin a new chapter in our scholarship program that will ultimately benefit the citizens of the state through the efforts of SCDNR.
The Fundís Hampton and Pate Scholarships require that the student major in a natural resources field. The Pate Scholarship is named for the late Wallace F. Pate, a pioneer of offshore fishing in the Palmetto State and is given in conjunction with the S.C. Governorís Cup Billfishing Series.
The James O. Thomason scholarship, named for the late James O. Thomason, a past Hampton Fund board chairman, is awarded to a student studying print, electronic or photo journalism. It is one of only a few scholarships in the nation available to journalism majors. The Cline Scholarship, named for the late David M. Cline, a founding board member of the Hampton Fund who also served on the board of the Governorís Cup Billfishing Series and on the SCDNR Law Enforcement Advisory Committee, is open to students majoring in law enforcement/criminal justice/forensics.
The Robert M. Gifford Scholarship is limited to legal dependents of any full-time employee of SCDNR and is named for the late R.M. ďBobbyĒ Gifford, long-term Chief of SCDNRís Law Enforcement Division. SCWLEOA scholarships are limited to Wildlife Conservation Officers who are current members of SCWLEOA.
Scholarship applications for 2019-2020 must be received no later than Jan. 31, 2019. To receive a scholarship application or for more information on the activities and organization of the Harry Wildlife Fund, write to HWF, PO Box 2641, Columbia, S.C. 29202 or visit www.hamptonwildlifefund.org. Scholarship applications and criteria are available for download on the scholarship page.
The Harry Hampton Memorial Wildlife Fund, Inc, established in 1981, is a private, non-profit corporation which partners with the stateís Department of Natural Resources and other organizations for the promotion of education, research and management to benefit conservation of wildlife, marine and other natural resources in South Carolina. Funds are obtained solely through private donations and special promotional projects, events and publications. Contributions are administered by a board of directors, chaired by Deidre Menefee of Wadmalaw Island, comprised of fourteen South Carolinians committed to responsible natural resources management and education. The total donated to SCDNR by the Hampton Fund over the years now totals $3,652,605.
---
DNR Media Contacts
After Hours Radio Room - 803-955-4000
More News