April 5, 2021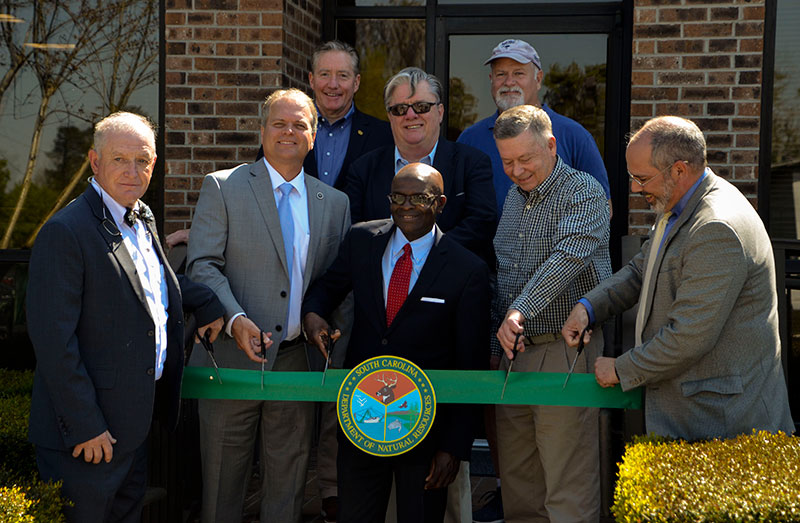 The South Carolina Department of Natural Resources (SCDNR) celebrated the opening of a new boat titling and license sales office in Horry County with a ribbon-cutting ceremony on Monday, April 5.
The facility, located at 640 9th Avenue in Aynor, will provide a welcome venue for in-person service in one of the fastest growing areas in South Carolina – one known for its on-the-water recreational opportunities and high rate of boat ownership.
"The new walk-in office will allow us to better serve the citizens in this fast-growing region of our state," said SCDNR Director Robert Boyles. "South Carolinians love the outdoors and spending time on the water, and one of our primary jobs as an agency is to facilitate that. We want everyone to be able to make the most of the tremendous natural assets we enjoy."
"This is going to be a tremendous help to the boaters and sportsmen and women in this region," said SCDNR Board Chairman Norman Pulliam. "I'd like to personally thank state Rep. Jeff Johnson, who really got the ball rolling in the General Assembly on securing the necessary funding and authorization for this office, as well as his colleagues who also supported it."
The Horry County office will be open to the public Monday through Friday, from 8:30 a.m. until 5 p.m., with the exception of Wednesday mornings, when they will open at 9:30 a.m. to allow for one hour of in-house training in an effort to ensure consistent and quality customer service. The office telephone number is (843) 827-1002.
Boating and Licensing staff in the SCDNR's Division of Administration process tens of thousands of requests for boat and motor registrations and titles, and recreational license purchases each year. The Palmetto State is perennially in the Top 10 in the United States in terms of per-capita boat registrations, with approximately 450,000 vessels registered here, a number that continues to grow each year as more and more people move into the state.
Boating transactions can also be processed by mail. Visit the boat registration and titling page on the SCDNR website for more information, frequently asked questions, downloadable applications and other assistance related to the requirements for registering and titling boats and motors in the state at: https://www.dnr.sc.gov/boating/Titling_and_Registration/index.html
Also, most recreational hunting and fishing licenses, tags, and permits can be purchased 24/7 online at: https://www.dnr.sc.gov/legallicense.html. Please note that a small convenience fee may be included for online transactions. Licenses and permits can also be purchased at one of more than 500 license vendors located across the state, including big-box retailers and locally-owned sporting goods, hardware, or bait-and-tackle shops.
Media Contact: David Lucas, Public Information Coordinator, (843) 610-0096