If you are seeing this, then your internet browser is Microsoft Internet Explorer and you are running in Compatibility mode. You will not be able to view the application with this browser and these settings.
Please remove "SC.GOV" from your compatibility view listings using your settings in the Internet Explorer options.
** Archived Article - please check for current information. **
SCDNR News
Anglers help monitor tiger shrimp
Sept. 5, 2013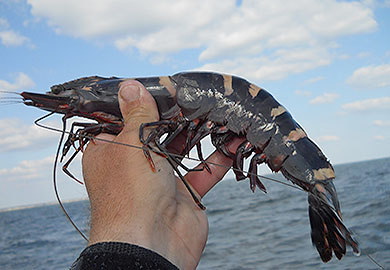 Recreational and commercial fishers are encouraged to report catches of Asian tiger shrimp in South Carolina to the S.C. Department of Natural Resources (SCDNR) at tigershrimp@dnr.sc.gov, if possible including a photograph of the animal(s). Reports to this e-mail address should include as much of the following information as possible:
* Reporter name

* Collector name (if different from reporter name)

* Date of capture

* Method of capture (e.g., commercial trawl, cast net)
* Location of capture (as much detail as possible)

* Depth of capture

* Length of tiger shrimp

* Weight of tiger shrimp

* Male or female (if known)
The Asian tiger shrimp (Penaeus monodon) was first reported in South Carolina waters in 1988. Researchers with SCDNR continue to monitor the abundance and distribution of the species.

Researchers are also interested in receiving tiger shrimp specimens. Specimens less than 5 inches in length are of particular interest to the SCDNR. If donated, tiger shrimp should be kept frozen until arrangements can be made for their collection for future analysis by SCDNR personnel. Donors are also welcome to deliver tiger shrimp live to the SCDNR Marine Resources Research Institute at Fort Johnson or the Waddell Mariculture Center in Bluffton, SC, after making prior arrangements with SCDNR researchers by e-mail (tigershrimp@dnr.sc.gov) or phone (843) 953-4985.