Broad Scenic River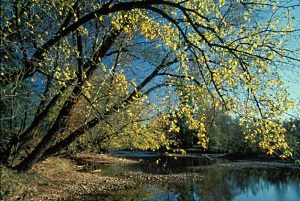 A 15-mile segment of the Broad River between Cherokee and York counties was designated a State Scenic River in May 1991. The designation extends from Ninety-Nine Islands Dam to the confluence with the Pacolet River.
The Broad Scenic River presents an undeveloped riverfront of Piedmont forests and pasturelands. The riparian forest is home to diverse plant and animal life. Eagles, ospreys, and other birds frequent the river corridor. The area surrounding the river is rich with historical features from Smith's ford to Native American fish traps.
Partners for the Broad Scenic River Project serve on a local advisory council, which represents local landowners, river users, community interests, and SCDNR. Participation has included property owners from Cherokee and York counties, Duke Energy, County governments, SC Department of Health and Environmental Control, forestry consultants, and river outfitters.
The Broad Scenic River Management Plan was updated and published in 2004. The plan serves as a guiding document for stewardship of the river and specifies goals and recommendations to address issues of land management, natural resources (wildlife and habitats), water quality, recreation and public access, law enforcement and public safety, and cultural and historic resources.
Recreational Access
The Broad Scenic River may be explored and enjoyed from at least three public access sites, which are listed below in order from upstream to downstream locations.
Ninety-Nine Islands Tailrace Fishing Area and Boat Ramp – This area is just downstream of Ninety-Nine Islands Dam on the eastern bank of the Broad River at the end of Ninety-Nine Island Road (State Road 43) in Cherokee County. Facilities at this site include a boat ramp, parking area, bank fishing trail, and a canoe portage trail around the dam. Additional information and a map (which features two upstream access sites) is provided at the Duke Energy Ninety-Nine Islands Lake website.
99 Islands Boat Ramp – This public landing on the western bank of the river below the dam and provides a boat ramp and parking area. This site is roughly one-quarter mile downstream, on the opposite riverbank from the previous site listed. It's located at the end of Ninety Nine Ferry Road (State Road 13) which extends from McKowns Mountain Road in Cherokee County.
Boating distance from either of the above listed sites to the next downstream access location at Dalton's Landing is about 8 river miles.
Dalton's Landing – This public boat ramp is on the eastern bank of the Broad River at the end of Dalton's Landing Road, which is off State Road 1000 (Scenic View Road) in York County.
Worth Mountain Wildlife Management Area – This 1,600 acre property is owned by York County and managed by DNR to provide wildlife habitat and public recreation opportunities to include hunting, fishing, hiking, and biking. The property is located on the east bank of the river at approximately five to seven miles downstream of Ninety-Nine Islands Dam. The river banks are steep so access to or from the river at the property is very limited. The Worth Mountain property may be accessed from SC Highway 211 (Irene Bridge Highway), State Road 1000 (Scenic View Road), and Dalton's Landing Road. For more information see the York County Parks Worth Mountain website… https://www.yorkcountygov.com/888/Worth-Mountain.