Middle Saluda Scenic River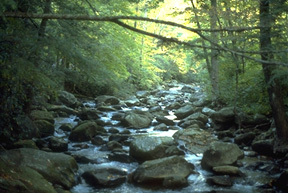 Project Overview
The Middle Saluda River became the first river protected under the Scenic Rivers Program in South Carolina in 1978. Located in northern Greenville County and completely within Jones Gap State Park, about five miles of the Middle Saluda and its major tributary, Coldspring Branch, are protected by a 600-foot wide scenic corridor established through an agreement with the South Carolina Department of Parks, Recreation and Tourism. The protected portion extends from U.S. Highway 276 to a point about one mile upstream of the abandoned Cleveland Fish Hatchery. Dropping almost 1000 feet in four miles, the Middle Saluda River is a typical mountain stream, with clear, cold water that supports reproducing trout populations.
Recreational Access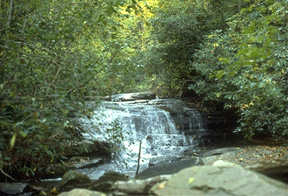 The scenic segment of the Middle Saluda River is contained entirely within Jones Gap State Park.
The Jones Gap area is a pristine valley in the Blue Ridge Mountains of South Carolina. This upcountry wilderness is well known for its natural features and diverse plant life. More than 400 species of plants can be found here, giving the valley recognition as a haven for rare and endangered plants and state record trees. Jones Gap State Park gives visitors an opportunity to experience the natural beauty of a mountain river flowing freely through a rock-bound gorge.
Hiking trails run along both the Middle Saluda River and Coldspring Branch within the park and these provide access for day hikes, trout fishing, and backpacking. An environmental learning center located at the park offers nature exhibits, a meeting/assembly area and is also the site of the park office. Portions of the old Cleveland Fish Hatchery have been restored and are stocked with trout. Jones Gap State Park is located 25 miles northwest of Greenville off U.S. 276. The park is open 7 days a week. An admission fee is charged. For additional information go to the park website or call the park.
Jones Gap State Park
303 Jones Gap Road
Marietta, SC 29661
(864) 836-3647