Bats in South Carolina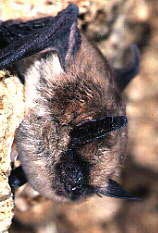 Of all the mammals on Earth, bats are the only ones capable of true flight. They use elongated bones (similar to human fingers) and a thin wing membrane stretched between them. Most (about 70%) eat insects but there are some that consume fruits and nectar or small mammals, birds, lizards, frogs, and fish.
South Carolina's bat species prey on insects and are of great economic importance to the state - they suppress nocturnal insect populations, including crop and forest pests, and reduce the need for costly pesticides. Bats save South Carolina's agricultural industry over $115 million each year in pest suppression services, totaling $22.9 billion for the US annually. Bats also indirectly suppress pest-associated fungus and the toxic compounds they produce in corn, and help reduce the impact of pesticides on many other wildlife species that call South Carolina home. Sadly, many bat species have been declining rapidly due to White-nose Syndrome.
Of the 47 bat species documented in the United States (US), 14 are found in South Carolina:
Big brown bat (Eptesicus fuscus)
Brazilian free-tailed bat (Tadarida brasiliensis)
Eastern red bat (Lasiurus borealis)
Eastern small-footed bat (Myotis leibii)
Evening bat (Nycticeius humeralis)
Hoary bat (Lasiurus cinereus)
Little brown bat (Myotis lucifugus)
Northern long-eared bat (Myotis septentrionalis)
Northern yellow bat (Lasiurus intermedius)
Rafinesque's big-eared bat (Corynorhinus rafinesquii)
Silver-haired bat (Lasionycteris noctivagans)
Southeastern bat (Myotis austroriparius)
Seminole bat (Lasiurus seminolus)
Tricolored bat (Perimyotis subflavus)
Past incidental records exist of the big free-tailed bat and the federally endangered Indiana bat, but are considered very rare in the state. For detailed information on each of these species, see Chapter 3: Species Accounts of the SC Bat Conservation Plan.
Related Links
Bat Research
The grants listed in the tables below are those that have been completed and closed as of 2017 as well as grants currently in progress. You can access each final report by clicking on its link.
(Documents below are in PDF format.)