Wildlife - Deer
Overview of Comprehensive Deer Management Recommendations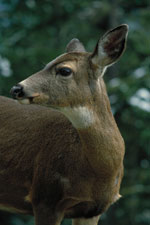 The DNR Board recommends a statewide limit of 5 bucks per hunter per year with no more than a total of 3 bucks per hunter in Game Zones 1 and 2 combined. The board supports a mandatory deer tagging program whereby all harvested deer (bucks and does) must be tagged with tags provided by the department.
The fee structure for the recommended program - resident hunters would receive all necessary deer tags for $20 and nonresidents would receive their tags for $30. This means that each hunter would get 5 buck tags and 4 doe tags as part of the deer hunting privilege. Resident hunters who currently get 4 optional doe tags would pay no more than they currently do under these recommendations. It is also recommended that a "limited deer tag" option be made available in which more casual hunters could receive 1 buck tag and 1 doe tag for $10 for residents. Nonresidents could receive the limited tag option for $15. Youth hunters could receive the full compliment of buck and doe tags at no cost. Hunters who hunt exclusively on properties in the Deer Quota Program would not be required to purchase the regular tag package because tags for the property would be in place. All other hunters would have to purchase their tags annually. Revenue generated from the program would be earmarked for the administration of the program and for deer research, management, and law enforcement.
The number of doe tags available to each hunter would be determined annually based on management needs in addition to the proposed limit of 5 buck tags per hunter. The current recommendation is set at 4 doe tags per hunter with tags being valid on any day starting Sept. 15 in Game Zones 2-6 and Oct. 1 in Game Zone 1 (a lower number of doe tags would be valid in Game Zone 1 due to the lower deer population density). Under the new program, statewide "doe days" would be eliminated because all hunters would have doe tags as part of the deer hunting privilege.
The Antlerless Doe Quota Program (ADQP) currently available to property owners and hunting clubs will continue and be expanded to a Deer Quota Program (DQP) in which quotas for bucks and does would be issued for tracts of property based on the size of the property and the deer management and agricultural objectives of the owner or manager. It is recommended that the application fee for the program be increased from $50 to $200.
Read a complete summary of DNR's efforts to document public opinion on future deer management.
The proposed legislation for Deer Management is in the Adobe® Acrobat® (PDF) format. Adobe® Reader® is required to open these files and is available as a free download from the Adobe® Web site.


White-tailed deer are the official state animal and the most economically important game species in South Carolina. There is currently no enforceable limit on the number of bucks a hunter can take during the season. Although there is a 5-buck limit prescribed by law in the two Upstate Game Zones, these limits have never been enforceable. In the four coastal plain Game Zones state law specifies there is "no limit" on antlered deer. This lack of a reasonable bag limit on bucks in the Palmetto State is in stark contrast to the approach in other states and to the approach with other fish and game species in South Carolina which typically have bag limits.

Most hunters perceive that the current system leads to overexploitation of bucks, particularly young bucks, resulting in a poor overall management approach. Annual deer harvest figures support hunters' allegations that some hunters take unfair advantage of the lack of bag limits. Recent harvest data indicates that only 4 percent of hunters take more than 5 bucks annually, however, as a group these hunters take 20 percent of all the bucks in the state each year. Similarly, only 11 percent of hunters take more than 3 bucks each year, but they take 43 percent of all the bucks annually.
Other data also supports hunters' desires to see a more conservative approach. Although there are still a few areas in the state that have high deer populations, the overall statewide population has moderated during the last 10 years resulting in an estimated 25 percent reduction. This is likely due to changes in habitat associated with forest composition and growth, urban/suburban development, and many years of extremely liberal deer harvests. Also, coyotes are a recent addition to the landscape in South Carolina and appear to be having a negative impact on deer. Deer in most areas are now well or slightly below the natural carrying capacity thus allowing for local adjustments in deer populations based upon the interest of the various communities.
DNR staff recognizes the interest of hunters in some areas for an increase in local deer populations. The requirement for the tagging of all deer, bucks and does, will provide the tools for total deer herd management. DNR will continue to address habitat change and will continue to encourage landowners and hunters to harvest coyotes.
Coyotes arrived in South Carolina through natural movements from adjoining states, but were also illegally brought into the state for hunting purposes. Current research being conducted at the Savannah River Site by the U.S. Forest Service and DNR indicates that coyotes are significantly impacting the survival of deer fawns. The study, now in its fourth year, indicates that annual fawn mortality through all causes is about 70 percent, which is much higher than expected, and that coyotes are responsible for approximately 80 percent of these mortalities. If these findings even moderately represent a statewide situation, this "new mortality factor" combined with extremely liberal deer harvests and lower deer populations are a cause for concern. It should be noted that based on the experience in other states, it is highly unlikely that coyotes can be significantly reduced, and certainly not eliminated. Therefore it is more important than ever the one factor that can be controlled (the hunter harvest of deer) be more carefully managed.
Charles Ruth - Deer Project Supervisor
SCDNR Deer Project
P. O. Box 167
Columbia, SC 29202-0167
Phone: 803-734-3886
Fax: 803-734-6020
E-mail: RuthC@dnr.sc.gov