Wildlife - Mourning Dove Research and Management in South Carolina
Introduction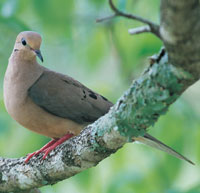 The South Carolina Department of Natural Resources (DNR) has been a leader in regional and national mourning dove research and management initiatives for many years. In the 1950's, DNR biologists were involved in the development of the mourning dove Call Count Survey which became the standardized technique to assess breeding populations of doves nationally. Subsequent studies investigated the effect of an experimental bag limit increase on harvest rates and survival rates of doves and the effect of September hunting on mourning dove populations. Other studies, conducted in cooperation with Clemson University, have examined population dynamics and harvest dynamics of mourning doves in South Carolina.
Nationally, mourning doves are managed at the management unit scale. Dove management units are distinguished by discreet migratory pathways similar to waterfowl flyways. South Carolina is part of the Eastern Management Unit (EMU) for mourning doves, and is represented on the EMU Dove Technical Committee.
Frequently Asked Questions (FAQs)
1: Do biologists band doves like they do ducks?
Waterfowl hunters have long known to check harvested ducks for the presence of the band. However, most hunters are not aware that other species, including mourning doves, are also banded. Since 2003, personnel from SCDNR and the U.S. Fish and Wildlife Service have banded over 15,500 doves on public and private lands across the state.
2. Why do biologists band doves?
Banding remains the primary method of determining harvest rates and survival rates of mourning doves and other migratory game bird species. Understanding these important demographic parameters allows biologists to identify the driving forces behind fluctuations in mourning dove populations and make informed decisions regarding harvest management regulations.
3. What do I do if I kill a banded dove?
Hunters are the critical link in assuring the success of any banding study. By reporting any banded doves harvested, you add valuable information which will help us manage this important migratory bird resource. If you harvest a banded mourning dove, please call 1-800-327-BAND (1-800-327-2263) to report the band number. Bands can also be reported by accessing the U.S. Geological Survey Bird Banding Laboratory. Hunters can keep the bands and will be provided a certificate identifying the age and sex of the bird, as well as the date and location the bird was banded.
4. Why do biologists collect dove wings?
Wings from harvested doves can be used to determine the age ratio of doves in the fall population. This ratio, expressed as the number of juveniles per adult, allows biologists to determine an index to recruitment, or breeding season success, of doves. A high level of recruitment is necessary for mourning doves to maintain stable populations.
5. Where do South Carolina doves come from?
Although doves are a migratory species, the majority of doves harvested in South Carolina are resident birds. The resident birds breed in South Carolina, and may spend their entire lives within the state's boundaries. Of 1148 recoveries of doves banded in South Carolina between 2003 and 2011, only 67 (5.8%) have occurred in states other than South Carolina. These out-of-state recoveries include 47 recoveries in Georgia, 5 in Florida, 4 in North Carolina, 4 in Illinois, 2 in Indiana, 2 in Tennessee and 1 each in the states of Kentucky, Tennessee and Louisiana. During that same time period (2003-2011), 49 doves banded in other states were recovered in South Carolina. These recoveries include 11 birds banded in Pennsylvania, 7 from Ohio, 6 from North Carolina, 3 from Missouri, 3 from Georgia, 3 from West Virginia, 3 from Kentucky, 2 from Maryland, 2 from Florida, , 2 from Ontario, 2 from New Jersey, and 1 each from the states of New York, Arkansas, Iowa, Virginia, and Louisiana.
6. Where can I go dove hunting in South Carolina?
There are numerous opportunities for dove hunting on both public and private lands in South Carolina. Throughout the state, there are numerous "dove clubs" operated on private lands. These clubs operate on a membership basis and often advertised in local newspapers. Farmers, landowners and lessees can also choose to prepare their own fields for dove hunting. Grain fields and crops grown and manipulated specifically for dove hunting are very attractive to doves, and can provide outstanding dove hunting opportunities.
Each year, there are approximately 45 public dove fields on Wildlife Management Area lands. These fields are planted and managed specifically for the purpose of attracting doves, and are open on specified days. Locations, regulations, and hunt schedules for these public dove fields can be found at https://www.dnr.sc.gov/wildlife/dove/fields.html.
7. Where can I find information on what crops to plant and how to legally prepare a dove field?
Attracting Doves Legally – South Carolina's Official Planting Guide for Dove Fields (Clemson Extension).

Information the Legalities of Preparing Fields for Dove Hunting

Michael W. Hook - Small Game Program Leader

SCDNR
P.O. Box 167
Columbia, SC 29202
Phone: (803) 734-3940
Fax: (803) 734-6020