Wildlife - Species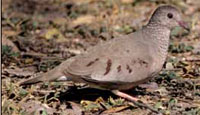 Species Specific Regulations
Doves - Common Ground Dove
Protected nongame: May not be harvested.
Common Ground Dove (Columbina passerina)
Description
Sexes similar
Small, chunky dove
Black-tipped orange bill
Gray-brown back and upperwings
Scaly appearance to breast and head
Black spotting on wing coverts
Cinnamon inner webs of primaries visible in flight and occasionally at rest
Cinnamon wing linings
Short tail is slightly rounded at tip
Tail is brown centrally, with black edges and white corners

Average Size
Length: 5.5 inches; approximate weight is between 2 to 4 ounces.

Preferred Habitat
Their range is throughout coastal plain – most common in outer coastal plain. Rarely in Piedmont. Feeds on grass seed and waste grain.
Publications and Literature
Doves of South Carolina - Identification and Status. (Adobe PDF) Wildlife and Freshwater Fisheries Division. Columbia, South Carolina
Some of the files above are provided in the Adobe® Acrobat® (PDF) format. Adobe® Reader® is required to open these files and is available as a free download from the Adobe® Web site.

Michael W. Hook - Small Game Program Leader
SCDNR
P.O. Box 167
Columbia, SC 29202-0167
Phone: 803-734-3940
Fax: 803-734-3691
E-mail: HookM@dnr.sc.gov