LiDAR and Related Data Products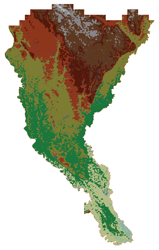 Lidar data is remotely sensed high-resolution elevation data collected by an airborne collection platform. Using a combination of laser range finding, GPS positioning and inertial measurement technologies, lidar instruments are able to make highly detailed Digital Elevation Models (DEMs) of the earth's terrain, man-made structures and vegetation.
Technical Specifications include 1.4 meter nominal point spacing for LAS and Bare-earth, 18.5 cm vertical RMSE to support 2-foot contours, 1.0 meter horizontal RMSE, and accuracy tested at 95 percent confidence level.
Deliverable products include: LAS point cloud data, ESRI File GeoDatabase with Terrain Surface, Intensity Images, 3-D Hydro Breaklines, and quality assurance report. LAS and Intensity image data was divided into 5000' x 5000' tiles and named based on the 1:2,400 index used by the SC Geodetic Survey for County Orthophotos in South Carolina. The Terrain and 3-D Hydro Breaklines are county-wide data sets.
Project Partners
These data products are made possible by the South Carolina LiDAR Consortium comprised of numerous State, Federal, and Local government entities in South Carolina through monetary contributions and in-kind services.
If you have any questions or would be interested in participating, please contact:

South Carolina Department of Natural Resources
Email: gisman@dnr.sc.gov

Gary Merrill, Geospatial Liaison to SC
U.S. Geological Survey
Phone: (803) 750-6124
---
Status
<!a href="images/doqqq_status08.pdf" title="Map of Avaiable DOQQQ"> 2007 Completed Acquisition: Charleston (middle portion), Colleton, Jasper County <!/a>
2008 Completed Acquisition: Clarendon, Cherokee, Chester, Chesterfield, Darlington, Dillon, Fairfield, Greenwood, Lancaster, Laurens, Marlboro, Marion, Newberry, Orangeburg, Union, and Williamsburg County
2009 (In progress): Berkeley, Charleston (Southern and Northern sections), Dorchester, Florence, and Horry County
2010 (In progress): Allendale, Bamberg, Hampton, Kershaw, Lee, Lexington, Richland, Saluda, and Sumter County
2011 (In progress): Anderson, Oconee, Pickens, and York County
Geographic Coordinate System
2007 LiDAR Terrain Based Products:
Horizontal: State Plane, International Feet, HARN, Datum NAD83
Vertical: NAVD88, US Survey Foot
2008 LiDAR Data Products:
Horizontal: State Plane, International Feet, HARN, Datum NAD83
Vertical: NAVD88, US Survey Foot
Please note: Data posted after 3/21/2011 matches the Horizontal and Vertical coordinate system as 2007 and 2009 LiDAR data products. Previous data for 2008 had a vertical with units in meter.
2009 LiDAR Data Products:
Horizontal: State Plane, International Feet, HARN, Datum NAD83
Vertical: NAVD88, US Survey Foot
Format for LiDAR Data
Intensity Images - tiff file format
Hydrolines - ESRI ArcGIS File GeoDatabase v9.3
Raw LiDAR - LAS file format, 1.4 meter nominal point spacing, 18.4 cm vertical RMSE
LAS Classes for this project:
Class 1 - Unclassified (non-ground)
Class 2 - Ground (bare-earth)
Class 7 - Noise
Class 8 - Model Key Points (thinned bare-earth)
Class 9 - Water
Class 10 - Points removed from bridges and box culverts
Terrain - ESRI ArcGIS File GeoDatabase v9.3 containing the terrain feature class.
Viewing Data
To view the ESRI File GeoDatabase and tiff data sets you will need computer mapping software. A free viewer from ESRI is available ArcExplorer. The TatukGIS Viewer is a free viewer available from TatukGIS. ArcGIS users will need to install an extension like the free utility LAS Reader for ArcGIS by GeoCue to read the LAS file format or convert the LAS file to a feature using 3D Analyst Tool, LAS to Multipoint.

For other software programs, please consult your particular software's help to determine compatibility with these formats and any required software updates and/or plugins.
---
Download Available LiDAR Data Products from SCDNR
Data is available for download at no cost from DNR's ftp site. Note: Would highly recommend using FTP client software (similar to FileZilla) to download terrain data sets.
DEM 10x10 ft grid, vertical unit US Survey Foot
(file geodatabase in a compressed rar executable format):
ftp://ftpdata.dnr.sc.gov/gisdata/elev/DEM10x10ft/
Hydolines (file geodatabase in a compressed rar executable format):
ftp://ftpdata.dnr.sc.gov/gisdata/elev/Hydrolines/
Intensity Images (tiff format):
ftp://ftpdata.dnr.sc.gov/gisdata/elev/Intensity_Images/
Terrain (file geodatabase in a compressed rar executable format):
ftp://ftpdata.dnr.sc.gov/gisdata/elev/Terrain/


Download Raw LiDAR Data (LAS files) and Other LiDAR Data Products
LAS files are available from the following sites:
NOAA
USGS
LiDAR elevation data Products:
USGS - Download seamless 1/9 arc second National Elevetion Dataset (NED)