Office and Property Locations
The South Carolina Department of Natural Resources has both full-service and express offices located around the state to assist the public with licenses and boat titling needs. Full-service locations can assist you with all licensing and boat and motor titling and registration needs in person, whereas the express offices offer limited services to include watercraft renewals, duplicate registration cards, duplicate boat and motor decals, and forms. For a list of locations, hours and contact information please see below: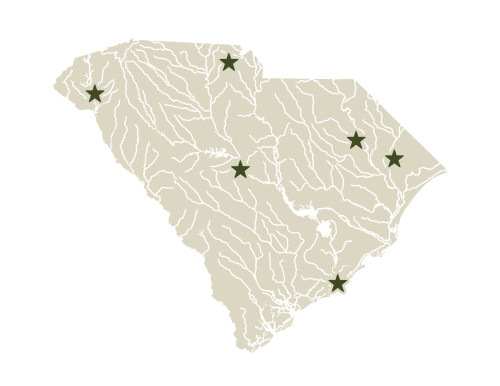 Full-service Locations
Office Hours:
Monday, Tuesday, Thursday, Friday: 8:30 a.m. to 5 p.m.
Wednesday: 9:30 a.m. to 5 p.m.
SCDNR at the Market
South Carolina Farmer's Market
326 Little Brook Ln.
West Columbia, SC 29172
Boating: (803) 734-3857
Licensing: (803) 734-3833
Charleston
217 Fort Johnson Road
Charleston, SC 29412
(843) 953-9300
Horry
640 9th Avenue
Aynor, SC 29511
(803) 684-4078
Express Locations
Office Hours:
Monday, Tuesday, Thursday, Friday: 8:30 a.m. to 4:30 p.m.
Wednesday: 9:30 a.m. to 4:30 p.m.
Clemson
311 Natural Resources Dr.
Clemson, SC 29631
(864) 654-1671
Florence
295 S. Evander Dr.
Florence, SC 29506
(843) 661-4766
York
510 Annie Alexander Ct.
York, SC 29745
(803) 684-4078
Headquarters Location
Administrative Headquarters
1000 Assembly Street
Columbia, SC
Property Closures
York Office Closed staring 11/23/2022
The York office will be closed starting today, November 23, 2022 through November 29, 2022
All shooting ranges will be closed the following dates:


November 11, 24, 25th 2022
December 24, 25, 26, 27th 2022
January 2, 3rd 2023

Commercial Licenses not available at Beaufort Boat and Dock Supply
The Beaufort Boat and Dock Supply point of sale agent is currently unable to sell commercial licenses until further notice.
Botany Bay WMA Driving Tour Route closed
Botany Bay WMA road access to the beach parking lot will open at noon on Monday, September 12, and resume normal operating hours. The driving tour route remains closed until further notice. Visitors are encouraged to view Botany Bay WMA normal operating hours and closures by visiting https://www2.dnr.sc.gov/ManagedLands/ManagedLand/ManagedLand/57
Savannah River Bluff Heritage Preserve Closed
Beginning February 25, 2022, the Savannah River Bluff Heritage Preserve will be closed to all public access until further notice. The property will remain open to SCDNR employees for management purposes only. Over the next several days, SCDNR will post closure signs at the property. Those who fail to comply with this closure may be ticketed by SCDNR Law Enforcement.
US 76 boat landing on Lynches River closed until November 1, 2022 Effective January 3, 2022, due to construction on the US 76 bridge over the Lynches River, the US 76 boat landing will be closed through November 1, 2022. There will not be any public access to the river for the specified time period.
2021-2022 Wateree River HP / WMA Closures

The Wateree River Heritage Preserve Wildlife Management Area will be closed the following dates for scheduled lottery hunts:


**Closed all day**

October 11-13, 25-27
November 6, 8-10, 22-24

**Half day (closed from sunrise until 12:00 noon **

November 20, 27
December 18, 19
January 1, 12, 15, 26, 29
February 5

St. Stephen's Fish Lift Closed
The St. Stephen's Fish Lift (Shad cam available) is closed.
2022 Holiday Schedule
All SCDNR properties and offices will be closed on the Observed holiday date.

Holiday
Observed on This Day
New Year's Day
Monday, Jan. 3
Martin Luther King, Jr. Day
Monday, Jan. 17
George Washington's
Birthday/Presidents Day
Monday, Feb. 21
Confederate Memorial Day
Tuesday, May 10
National Memorial Day
Monday, May 30
Independence Day
Monday, July 4
Labor Day
Monday, Sept. 5
Veterans Day
Friday, Nov. 11
Thanksgiving Day
Thursday, Nov. 24
Day After Thanksgiving
Friday, Nov. 25
Christmas Eve
Friday, Dec. 23
Christmas Day
Monday, Dec. 26
Day After Christmas
Tuesday, Dec. 27