Calhoun Falls Competes at 2006 Canon Envirothon in Winnipeg, Manitoba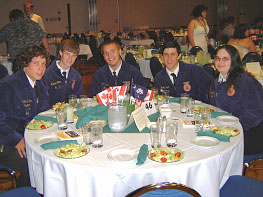 Students from Calhoun Falls in Abbeville County traveled to Winnipeg, Canada to compete in the Canon Envirothon competition. The chosen topic for this year's competition was Water Stewardship in a Changing Climate. The Calhoun Falls team scored the highest at the state competition held in May, and congregated with other first place teams from 44 states and 8 Canadian Provinces to compete at the North American level.
The University of Manitoba played host to almost 500 students and their state chaperones. Upon their arrival at the Winnipeg International Airport, the students loaded their luggage and headed for the university in style…a limousine was actually a more affordable means of transportation for 7 people than two taxis!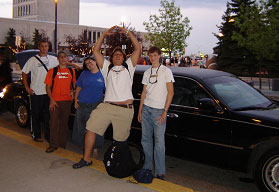 The schedule was tight the whole week with registration, the opening ceremony and trading session on Sunday, team training on Monday and Tuesday, testing on Wednesday, oral presentation preparation on Thursday, giving of oral presentations Friday morning, top five oral presentations given to the whole body Friday afternoon, the awards banquet Friday night, followed by the dance, and departures Saturday. Whew!
The students were able to socialize and learn about Winnipeg and its history in between the work and studying. Tours were scheduled so that students would be able to get a taste of "Friendly Manitoba" and its culture.
Photograph Gallery of 2006 Canon Envirothon in Manitoba, Canada