SC Envirothon Competition is just around the corner!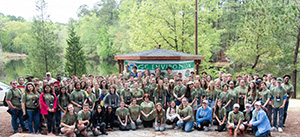 2019 SC Envirothon Group
The 2021 SC Envirothon Competition will be held virtually due to concerns and restrictions of COVID-19. Students will be competing for scholarships, awards, and a sponsorship for the 2021 NCF-Envirothon competition. The current topic remains the same as last year "Water Resource Management, Local Control and Local Solutions". We will try to accommodate individual situations as much as possible to help make this a successful competition. More details will follow as competition plans come together.
Competition Details: Competition slots will be scheduled with participating teams in the first week of May upon registering.
This will remain a team competition but students will be able to join from their own electronic devices during their scheduled test time. Students will need access to an electronic device through which they have a adequate internet bandwidth, shareable camera and can view the testing screen.
A team captain will need to be assigned who will be responsible for managing the team by sharing their screen to show test questions and oral presentation materials. The team captain will likely need to be operating from a laptop or a desktop computer rather than another electronic device (such as a mobile device).
An orals component will be recorded at the same time as scheduled test time for judges to view post competition.
A moderator will be present for the entire testing session available to answer questions, troubleshoot, and monitor students.
Coaches Training Information: As announced prior, we will not have an in-person coaches training in February 2021. We will have our traditional coach materials available on the website along with training videos for each station. The website will be updated with materials as they become available.
Team Registration: Registration materials will be made available soon. SC Envirothon team registration fees are being lowered to $100 for the 2021 Virtual SC Envirothon Competition. Local Soil and Water Conservation Districts typically sponsor SC Envirothon teams from their county. Be sure your district is aware that you plan to participate and inquire on potential team sponsorship opportunities. Contact information for individual districts can be found here: https://www.dnr.sc.gov/conservation/
Direct questions to Tyler Brown, brownty@dnr.sc.gov or Deanne Myrick, myrickd@dnr.sc.gov