SC Envirothon Competition has been Cancelled
The SC Envirothon Competition scheduled for April 24th has been cancelled due to COVID-19 concerns and restrictions. However, we are still planning to host a Virtual SC Envirothon Challenge for students to participate in from home! This challenge will be an opportunity for students to test the skills and knowledge they have been honing for the SC Envirothon Competition. Further information regarding the challenge will be sent out to coaches in the near future.
Feel free to reach out to the SC Envirothon State Coordinator, Brooke Myres with questions or concerns.
SC Envirothon Competition is just around the corner!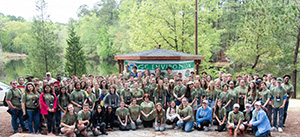 2019 SC Envirothon Group
On Friday, April 24, 2020 we will be hosting the 24th annual SC Envirothon Competition at Clemson Sandhill Research and Education Center. Come join us in ACCEPTING THE NATURAL CHALLENGE!!! The deadline to register a team is Friday, March 27, 2020. The 2020 current topic is Water Resource Management, Local Control and Local Solutions. For Training Materials visit the Coach Materials tab of this webpage. The National Conservation Foundation (NCF) Envirothon Competition will be held in Lincoln, NE from July 26 to August 1, 2020. Learn more about the NCF Envirothon. Questions about SC Envirothon can be directed to Brooke Myres, SC Envirothon Coordinator (myresb@dnr.sc.gov).