Spartanburg Team Competes at 2008 Canon Envirothon in Arizona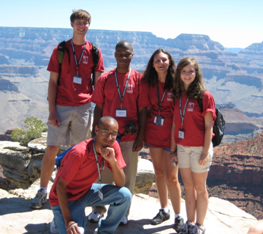 From left to right: William Weir, Marquan
Jones, Maryam Aly, Hazel Lever, and kneeling,
Vincent Wideman.
From July 28th until August 3rd, students from Spartanburg High School competed for scholarships and prizes with 53 other states and Canadian provinces at the Canon Envirothon competition hosted by Arizona. Flagstaff became home for the week-long program which included training days, testing days, a day to develop the team's oral presentation, and a day to unwind!
Students were treated to a short day at the Grand Canyon where the views were spectacular, and the history; long and deep. Students were able to see first-hand how visitors to the park impact the natural resources there; the current topic for the 2008 competition - Recreational Impacts on Natural Resources.
The Spartanburg team gave the training and testing days their all, and managed to place third in the area of forestry – quite a feat for a team not familiar with Aspens, Ponderosa Pines or Mesquite! Overall they placed 36th and represented the state well, not just in their score, but in their positive attitude and social skills. Coaches Rob Wilder and Vaughn Vick were proud of their students and glad they were all able to experience the Canon Envirothon. A special 'thank you' is expressed to the Harry Hampton Wildlife Foundation for supporting the team's travel to Arizona and making this trip possible for them. Thank you!
If you are interested in becoming involved with the state program, contact Joy Sullivan, State Envirothon Coordinator at sullivanj@dnr.sc.gov , or 803-359-3165 ext. 3.
Photograph Gallery of Canon Envirothon in Arizona