Spartanburg Team gets a Taste of Cali-Conservation
Team Members

From left to right:
David Stevens, Mary Frances Babrowicz, Philip Chambers, Grace Anne Martin, Vincent Wideman. Not shown are coaches Rob Wilder and Vaughn Vick.
The team of Spartanburg High students that won the SC Envirothon held back in May of this year, traveled to sunny California to compete in the Canon Envirothon with other teams representing 45 states and 9 Canadian Provinces. California State University hosted the event in Fresno from August 1st-6th supplying more than 270 teenagers with room and board, and a taste of how things are done in California!
The primary sponsor of the Envirothon at this level is Canon USA, Inc., a leader in advanced digital imaging. Canon provides scholarships and prizes to the top 10 winning teams, awarding over $125,000 in scholarships and Canon products. California, with the help of Canon, the Canon Envirothon Executive Committee, the National Association of Conservation Districts and numerous local corporate, individual and agency sponsors orchestrated the week-long event that tested students' knowledge of aquatics, forestry, groundwater protection, oral presentation, soils & land use, and wildlife.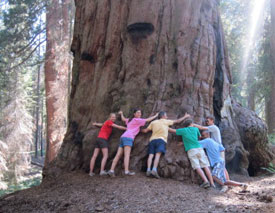 General Sherman

Sequoia National Park
While California took the top honors, our home-grown team represented the state well with the 28th highest score overall, and the 4th highest score in soils, one of the toughest of the testing stations. Maybe one of the best lessons learned though was not on the testing field, but in their down time in the dorms and on the buses: Kyosei - Canon's corporate philosophy of "all people, regardless of race, religion, or culture, harmoniously living and working together into the future". Whatever you may call it, these students joined together, worked together, and are striving towards a brighter, more sustainable future for us all.
If you'd like to be a part of the SC Envirothon, contact your local Soil and Water Conservation District for more information. The 2011 program year is gearing up and staff and teachers alike are preparing for the new topic of Salt & Fresh Water Estuaries. Join us and learn more about how your students can become better acquainted with their environment, sharpen their oral presentation skills, learn to work together as a team, qualify for scholarships, and have a chance to travel to New Brunswick, Canada next summer!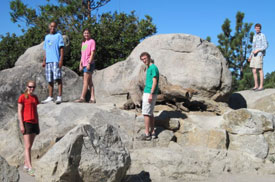 Rock Solid

Sequoia National Park