2010 Envirothon Program Off to a Great Start!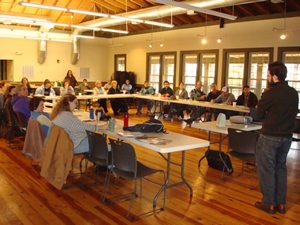 On Saturday February 6th, 24 teachers attended a training on the 2010 learning objectives for the SC Envirothon competition scheduled for May 7th. The training was held at the Clemson Institute for Economic and Community Development Lake House, courtesy of the Clemson Institute at Sandhill. Presentations were provided in the areas of Aquatics, Forestry, Groundwater Protection, Oral Presentation, Soils, and Wildlife. Current committee members provided the training, and hailed from a wide array of agencies: DNR, USDA-NRCS, Forestry Commission, Central Carolina Technical College and USC Sumter. The committee itself is even more diversified in its representation.
The SC Envirothon normally hosts approximately 23 teams at the state competition, but at the training this year, only 9 of the teachers in attendance had participated in the past. With all the new interest from across the state, the Envirothon Committee anticipates a substantial increase in the number of teams participating, and the number of students affected by the program. Having been established in 1997, the Envirothon has now generated conservation minded and action-oriented adults, 2 of which were present at the training as teachers, ready to coach the next generation of team members.
If you are ready to accept the 'Natural Challenge' of the Envirothon and register a team, the deadline is April 2nd. If you would like to see the curriculum to learn more about what the students are required to study, the Coaches' Manual can provide you with that information. If you would like to donate to this program, donations are tax deductable under the umbrella of the SC Conservation District Foundation. If you would like to volunteer for the 2010 competition, please contact us. The competition hosts approximately 300 students, teachers and staff, and your help would be welcomed!