Students Endure Heat to Protect Groundwater at the 2010 Envirothon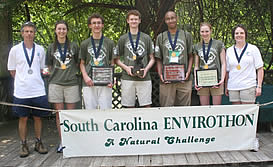 2010 SC Envirothon State Winners

From left to right: Rob Wilder (coach), Grace Anne Martin, David Stevens, Philip Chambers, Vincent Wideman, Mary Frances Babrowicz, Vaugh Vick (coach).
The 14th annual SC Envirothon was held on May 7th at the Clemson Institute for Economic and Community Development. Despite the warm temperatures, nearly 240 students, coaches, staff and volunteers descended upon the institute to face a day of rigorous academic and hands-on testing.
Students were tested on Aquatics, Forestry, Oral Presentation, the Protection of Groundwater through Urban, Agricultural and Environmental Planning, Soils, and Wildlife. The oral presentation that the students must prepare before the competition demands a working knowledge of every station, and an ability to analyze the information, coordinate with their team a course of action, and illustrate a plan for implementation. The teams had to present a comprehensive water management plan for a large SC county considering drought, population increases, ground and surface water protection, urban and agricultural needs, and storm water management. Hardly what most students eagerly do on a Friday afternoon!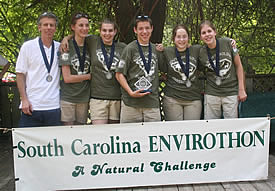 2nd Place: 2010 SC Envirothon

From left to right: Rob Wilder, Courtney Ketchen, Sara Freeman, Jake Henderson, Martha Nayfa, Hannah Brown.
The staff and volunteers that participated left the competition knowing that they had had a small impact on the future of this state. The Envirothon prepares these students for issues that are now, and will continue to challenge our leaders. All 23 teams from across the state left with a sense of accomplishment, knowing that they gave it their best shot and that they now have a better grasp of the environmental issues. Some of the teams also walked away with college scholarships and station awards!
The Station Winners (those scoring the highest at that station) of the competition were: Aquatics, Forestry, and Oral Presentation – Spartanburg Team A (Spartanburg County), Groundwater Protection – Spartanburg Team B (Spartanburg County), Soils – Faith Christian School (Berkeley County), and Wildlife – Spartanburg Day School (Spartanburg County).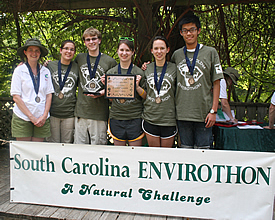 3rd Place: 2010 SC Envirothon

From left to right: Bonnie Webster (coach), Criosanna Allred, Matthew Roberts, Julia Rogers, Jennifer Omlor, Zheng Fang.
The overall competition winners, whose high scores landed them in the top four were: Honorable Mention – Team Greenville (Greenville County), Third Place, each member receiving a $125 scholarship – Spartanburg Day School (Spartanburg County), Second Place, with each member receiving a $250 scholarship – Spartanburg High School Team B, and First Place, each member receiving a $500 scholarship – Spartanburg High School Team A (Spartanburg County). Spartanburg Team A will also move on to compete at the Canon Envirothon competition that will host approximately 45 other US and Canadian Province teams in Fresno, CA from August 1st-7th.
The scholarships and prizes at the state level were provided by the generous donations of the Soil and Water Conservation Districts of the state, their State Association, the Soil and Water Conservation Society, the Low Country RC&D Council, the Harry Hampton Memorial Wildlife Fund, the SC Association of Future Farmers of America, the Canon Envirothon Committee, and various personal donations made by the 'Friends of Envirothon'.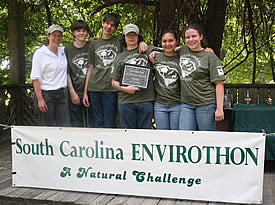 4th Place: 2010 SC Envirothon

From left to right: Kirsten Robertson (coach), Jon Albert, Dillard Robertson, Kevin Emery, Sally Anderson, and Sammy Hauser.
The Envirothon receives thousands of hours of in-kind services from its committee members, volunteers, station managers, graders, on-call EMT staff, photographers…and so on. The event is a true model of partnership for a common cause: providing a challenging, but fun outdoor experience for high school students that will encourage them to be stewards of the land, not just with their hearts, but with their heads and with their hands. Invest in your future and become a sponsor of the SC Envirothon Program.