Spartanburg High Envirothon Team Wins State and Places Third in 2011 Canon North American Competition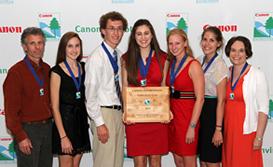 Pictured left to right: Rob Wilder (coach), Kelly Atherton, David Stevens, Grace Anne Martin, Mary Frances Babrowicz, Hannah Brown and Vaughn Vick (coach).
On May 13th, eighteen teams descended upon the Sandhill Institute for Economic and Community Development grounds to compete in the 15th Annual SC Envirothon. Although team numbers were down from the normal average of twenty-three, it was the first year that every registered team made it to compete.
When the air horn blew, marking the beginning of the exams, students in teams of five were tested on their knowledge of Aquatics, Forestry, Estuaries, Oral Presentations, Soils and Wildlife. It was certainly no walk in the park as much of the subject matter is college level for the 9th – 12th graders involved.
The competition ended with the Awards Ceremony recognizing the top scoring teams: Spartanburg High Team A with First Place and $500 in scholarship funds for each student, Spartanburg Team B with Second Place and $250 in scholarship funds for each student, Spartanburg Day School with Third Place and $125 in scholarships per student, and South Aiken High with Honorable Mention and a framed certificate.
The Awards Ceremony, for those who've been attending for any number of years, has become, well, anti-climatic. The Spartanburg teams have placed 1st and 2nd since 2008, and placed in the top 3 since 2004. For most of the other teams, it has been frustrating to say the least. However, it is a great consolation for all to know now, that this Spartanburg Team has taken their winning spree to the national and North American level!
From July 24th-29th, the Canon North American Envirothon competition was held at Mt. Allison University in New Brunswick, Canada. Spartanburg Team A, being the state winner, traveled to New Brunswick to represent South Carolina. Competing against 44 other states, and 9 Canadian Provinces, the Spartanburg Team did what they do best – win. In an exceptional showing, Spartanburg's team, led by coaches Rob Wilder and Vaughn Vick, placed 3rd overall! Manitoba placed 1st, Ontario 2nd, New Brunswick 4th and Connecticut 5th. Team members Mary Frances Babrowicz, David Stevens, Hannah Brown, Grace Anne Martin and Kelly Atherton scored higher than each of the other 44 states and 7 Canadian Provinces that participated. In addition, they tied for first place with New Brunswick in the very challenging area of Soils.
Each team member received a $3,000 college scholarship provided by Canon USA Incorporated. With three of these team members heading off to college this summer, the timing couldn't have been better! The team was also able to experience a little taste of life and natural resource management as it is in New Brunswick, meet students from all over North America, learn about a whole new ecosystem, and further develop the confidence that with hard work, a positive attitude, and a little support, they can achieve greatness. These students have achieved greatness in the high school natural resource arena, and this state should commemorate the occasion.