SC Envirothon holds 20th Competition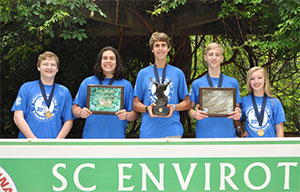 2016 SC Envirothon Winners – Spartanburg High School Team A Students

Left to right: Sam Fowler, Hawkins Shepard, Nathan Brown, Luke Martin and Nan Miles.
For the one hundred or so high school student participants, this past Friday the 13th wasn't a day filled with ominous thoughts or superstitions, but one laden with deep thought, excitement and accomplishment. The 20th annual SC Envirothon competition was held at the Sandhill Research and Education Center in northeast Columbia. High school students from around the state began their competition journey before day-break, loading vans and buses to attend, vying for the coveted reward of scholarship funds and a paid trip to Ontario, Canada.
After completing college-level exams in Aquatics, Forestry, Soils, Wildlife and Invasive Species, and presenting an argument based on a given scenario for the Oral Presentation station, teams of five ate lunch and awaited their fate while exam graders and orals judges calculated final scores. When it was all said and done, Spartanburg High's Team B was announced as the Third Place finisher, Spartanburg Day School Team A followed with Second Place, and Spartanburg High's Team A took top honors, finishing in First Place. Each student on a winning team received a scholarship award valid for five years. In July, the North American Envirothon will be held in Ontario, Canada at Trent University in Peterborough where winning teams from over 40 states and 9 Canadian Provinces will compete. Stay tuned for updates to see how well the Spartanburg High team represents South Carolina – maybe Canada is our good luck charm!
Having provided more than $87,000 in college scholarships to Envirothon students over the 20 years, the SC Envirothon is proud of what it has accomplished. Kellee Melton, chair of the Steering Committee commented Friday, "As a student, your participation in today's event is preparing you to take on a leadership role which will shape the future of natural resources and the health of our environment. You will be the innovators who encourage others to be good stewards of the land. Your dedication and desire to be a part of SC's Envirothon is a clear indication that you are poised to be a future leader...". With a mission to advance environmental awareness through an outdoor venue for high school students, to assess their knowledge of natural resource management issues, and to promote a life-long commitment to environmental stewardship, the SC Envirothon is nothing without the coaches who participate and motivate their students to attend, and the students themselves who go beyond the given materials to research topics, study the materials, and work together to achieve those top scores. All of the participants in the 2016 SC Envirothon are commended for their efforts.
2016 South Carolina Envirothon Participants.
The SC Envirothon is coordinated by the SC Department of Natural Resources in cooperation with the SC Forestry Commission, USDA-Natural Resources Conservation Service, Central Carolina Technical College, Francis Marion University, Florence County Environmental Discovery Center, SC Soil and Water Society and Clemson University Sandhills Center. Major financial sponsors are the SC Conservation Districts Foundation, Harry Hampton Memorial Wildlife Fund, SC Association of Conservation Districts, and SC Forestry Foundation. If you would like to become a sponsor, or if you wish to follow the successes of the SC Envirothon, visit the website at www.dnr.sc.gov/education/Envirothon , contact the SC Envirothon Coordinator, Marc Cribb by telephone at 803-734-6367, or like us on Facebook at www.facebook/SCEnvirothon.