Tournaments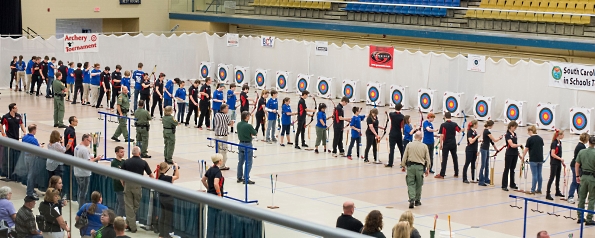 Downloadable resources below are in Adobe PDF format.
Participants that wish to compete in the State and National Tournaments must first qualify through a State Qualifier tournament. Please see SC State rules below.
Basic Archery Instructors
Please review the following annually:
Tournament Lane Officials & Volunteers
State Archery Participants
Every state archery participant must have a SCDNR Participant Release Agreement filled out and turned in at state registration. This is mandatory. Archers without this form will not be allowed to compete.
---
(All dates are subject to change.)
SC NASP® State Qualifiers Tournaments
2021 NASP SC State Bullseye Rules
Due to potential COVID-19 restrictions for the 2021 tournament season we will post information here and send bulletin updates about the tournament season to all active Basic Archery Instructors (BAI).
State Qualifier Dates
Virtual State Qualifier. You will have the option to shoot on one of the following dates of your choice.
Wednesday February 24, 2021
Thursday February 25, 2021
Friday February 26, 2021
Saturday February 27, 2021
Required to have an accountability witness present and to fill out and submit the Virtual Tournament Score Submission Form
2021 SC NASP® State Bullseye Tournament and 2021 NASP®/IBO 3D Challenge
2021 NASP SC State Bullseye Rules
The South Carolina Archery in the Schools Championship will be an in-person event. We will be prepared to implement any social distancing requirements.
March 23 - 25, 2021
Sumter County Civic Center, Sumter, SC
Tuesday March 23, 2021 Elementary School Division
Wednesday March 24, 2021 High School Division
Thursday March 25, 2021 Middle School Division
2021 NASP® National Tournament
2021 NASP Bullseye National Rules
2021 NASP IBO 3D National Rules
April 23-24, 2021
Western National
Salt Lake City, Utah
May 6-8, 2021
Eastern National
Louisville, Kentucky
2021 NASP World Open Championship
June 10-12, 2021 Myrtle Beach, SC
---
2020-2021 Season: Nontraditional schools under the new rules wishing to compete as a team or individuals need to request a Registration Packet from the State Coordinator RobertsonP@dnr.sc.gov. This packet needs to be completed and turned in to the State Coordinator by December 31, 2020 to be eligible for Qualifier and State Tournaments.