Coastal Research Section Data Management and Data Access
Coastal Trawl and Reef Fish Surveys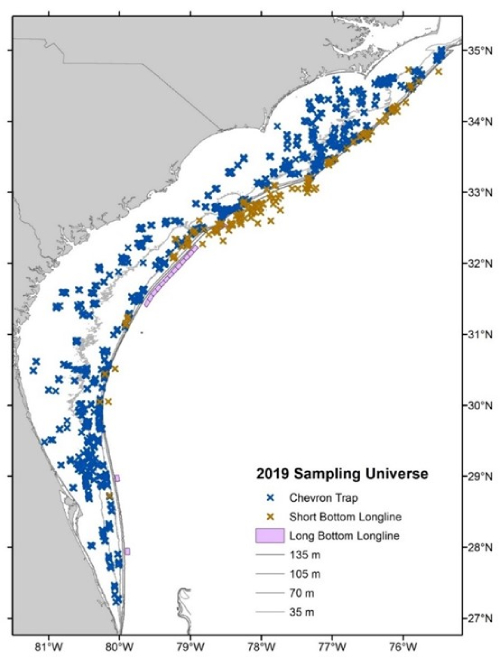 Fishery-independent survey catch data are used to develop indices of abundance for many species collected. Typically, this is presented as abundance, but we also consider how long the gear was sampling, where was it sampling, and when was it sampling. This information is useful in stock assessments because it provides information about changes in the number of fish over time because we use consistent, standardized methods while fishing activities can change with regulations and with popular fishing practices.
In addition to abundance and biomass data, our surveys also collect data for life history studies. Priority fish collected by surveys are identified to species, counted, weighed, and lengths measured. Some fish are kept and dissected to determine age, growth rates, sex ratios, reproductive activity, and other information.
For more information about data products or to request use of Coastal Research Section's survey data, please visit www.seamap.org or email marmap.data@gmail.com.
In-Water Turtle Data
Please contact Dr. Michael D. Arendt with data requests (arendtm@dnr.sc.gov)
Diamondback Terrapin Research
To report sightings and/or provide photographs of Diamondback Terrapins, please use the following citizen science reporting link: Terrapin Sightings
Please contact Dr. Michael D. Arendt with data requests (arendtm@dnr.sc.gov)
Coastal Receiver Array
Please contact Dr. Michael D. Arendt with data requests (arendtm@dnr.sc.gov)