ACE Basin/NERR Studies
Facilities
The ACE Basin NERR operates the Michael D. McKenzie Field Station at Bennett's Point, SC. The 4,000 square-foot facility contains offices, wet/dry labs, a conference room, and an outdoor classroom. Dormitory and kitchen accommodations are available free of charge for overnight stays by visiting scientists. Docking facilities are available for researchers to work in the heart of the ACE Basin.
The ACE Basin NERR collaborates in sponsoring the Edisto Beach State Park Environmental Learning Center containing interpretive exhibit galleries, a classroom, conference area, and storage for research equipment. The Center has a dock, public boat access, a nature trail system, and is the location of the Reserve's Big Bay Creek Long-term Monitoring site.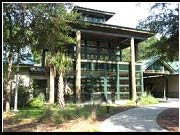 Overnight and kitchen accommodations are available free to researchers collaborating as partners with the ACE Basin NERR. The ACE Basin Research Sector is seeking partners for collaborative research of mutual interest.
For reservation of facilities, contact:
McKenzie Field Station
843-844-8822