About Us
MRRI Director
Mike Denson is the senior scientist and leader of the Estuarine Finfish Research Section (Mariculture, Genetics, Inshore fish) at the Marine Resources Research Institute. He coordinates all aquaculture and stock enhancement research at the Marine Division. He has worked in mariculture at the SCDNR since 1993. He has a Bachelor of Science degree from Southampton College/Long Island University and a Masters and Ph.D. in Aquaculture, Fisheries and Wildlife Biology from Clemson University. Mike has conducted research on the culture and production of marine and freshwater fin-fishes (10 species), crustaceans (4 species), bivalves (3 species), and algae (8 species) and has experience with culture system design, larval culture of marine fish species, fish ecology and habitat usage, and stock enhancement of commercially and recreationally important species. The SCDNR currently stocks four recreationally important species as part of its marine stocking research program and conducts empirical studies using cultured animals to better understand population dynamics and life history traits of wild fish to improve management.
Estuarine Finfish
Tanya Darden supervises the population genetics team at SCDNR. She joined SCDNR in 2007 after completing her BS at the University of Texas at Austin, MS and PhD at the University of Southern Mississippi, and teaching at the College of Charleston. She has experience in a wide range of research areas working with both freshwater and marine fishes. Our team works collaboratively on all research projects with groups both within and external to DNR. Our research umbrella focuses on developing and implementing genetic tools for diverse applications, from traditional population genetics to assessing environmental impacts, all with the ultimate goal of improving the science available to fisheries managers. As both natural and anthropogenic pressures on recreational and commercial fisheries change, effective management of these populations will become even more important to their sustainability.
Mariculture
Emily Welling graduated from Auburn University in 2016, moved to Charleston, and is currently pursuing a Master's in Marine Biology at the College of Charleston. She began working as a research assistant at SCDNR, and her main responsibilities include the husbandry of broodstock and experimental animals, assisting with feeding trials, and helping with the stock enhancement program. Her current research is focusing on how high temperatures affect the aerobic and anaerobic metabolism of juvenile red drum. Emilyís broader research interests include physiological tolerances and how human-caused change to the environment affects fishes.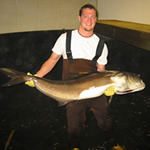 Justin Yost - Undergraduate in Biology at the College of Charleston in 2004. Intern with the Shrimp Infectious Disease Lab at DNR in 2004. Biologist with the Mariculture section at DNR in 2005 to present.

Work includes: husbandry on broodstock tank, photo/thermal manipulation for spawning, production and stocking logistics for stock enhancement research of red drum, spotted seatrout, striped bass, and cobia, age and growth of cobia, feed study to reduce phosphorus concentrations in effluent water, examination of metabolic effects due to dietary limitations in red drum.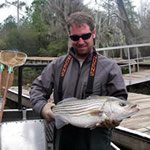 Matt Perkinson completed his undergraduate study at the University of North Carolina, and moved to Charleston to complete his Masters in Environmental Studies at the College of Charleston. He has worked with the Department of Natural Resources since 2007. His professional interests include stock enhancement research, estuarine ecology, and marine fisheries management. Matt is an avid fisherman and outdoorsman.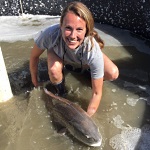 Gabrielle Fignar graduated from the University of the South in Sewanee, TN with a Bachelorís of Science in Natural Resources. A Connecticut native, Gabrielle moved to Charleston in the fall of 2017 and currently works as a biologist for the Mariculture section at SCDNR. Her responsibilities include husbandry of cobia, red drum and spotted sea trout broodstock, spawn production, monitoring water quality and assisting with aquaculture nutrition research.
Mary Ann Taylor earned a B.S. in Biology from Dalton State College in Dalton, GA in 2016. In the fall of 2016 she began pursuing her M.S. in the Graduate Program for Marine Biology at College of Charleston. Her current thesis work focuses on the age, growth, and reproductive life history of the naked goby (Gobiosoma bosc). In November 2017 she began working for the Mariculture Division of the SCDNR as an hourly employee. She currently works on animal husbandry and tank maintenance for red drum, spotted seatrout, and cobia involved in research for stock enhancement and aquaculture nutrition.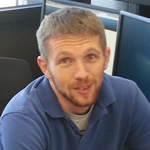 Aaron Watson received a B.S. in marine biology from the University of North Carolina at Wilmington, an M.S. in Marine Science from the University of Texas at Austin, and a Ph.D. in Marine, Estuarine, and Environmental Sciences from the University of Maryland, College Park. Aaronís research focus is on developing improved feeds for aquaculture that reduce the use of fishmeal and fish oil for a variety of species in intensive culture, developing fast, cost effective methods to evaluate diet performance, and evaluating new ingredients for the inclusion in aquaculture feeds.
Population Genetics
Matt J. Walker was born and raised in Charleston, SC. He attended East Carolina University where he earned a B.S. and a M.S. in biology. Mattís undergraduate and graduate research focus was millipede systematics, particularly phylogeography of the genus Narceus Rafinesque 1820 (Spirobolida, Spirobolidae). Matt came to the SCDNR in the summer of 2008 to work as a biologist in the population genetics lab where he has focused on a wide range of projects, from general fish population genetics and stock enhancement research to genetic age estimation of fishes.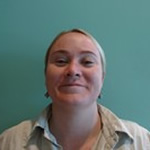 Elizabeth Cushman originally hails from Tampa, Florida. She received a B.S. in Molecular Biology from Palm Beach Atlantic University in West Pam Beach, FL in 2005 and a M.S. in Marine Science from the College of Charleston in Charleston, SC in 2008. She began working with the SCDNR in 2008 and is presently employed as a Wildlife Biologist II in the SCDNR population genetics lab. Her interests and current research are focused on population genetics and parentage analysis of American shad (Alosa sapidissima), Atlantic blue crab (Callinectes sapidus), and red drum (Sciaenops ocellatus).
Daniel Farrae was born in New Orleans, LA and earned a B.S. at Loyola University New Orleans. He then worked for a year as the laboratory manager at the Nekton Research Laboratory at the University of New Orleans spending much of his time sampling fish and invertebrates throughout southeast Louisiana habitats. Daniel earned his M.S. in fish biology from the University of Georgia in 2010 and wrote his thesis on the population dynamics and habitat use of shortnose sturgeon. He began working as a Biologist in SCDNRís Fish Population Genetics Lab in February 2010 and has primarily focused on striped bass population genetics and the assessment of telomeres as a genetic aging tool for sturgeon species.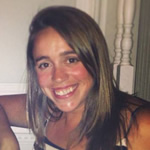 Margaret Jamison (Maggie) earned a B.S. in Marine Biology from the College of Charleston in 2009. Upon graduation, she began her career at the SCNDR as an hourly in the Mariculture section. During that time, she worked in stock enhancement research with red drum, striped bass, and cobia and developed a background in animal husbandry and pond management techniques. After a year in mariculture, she transitioned to a biologist position in the population genetics lab. Her main focus has been the application of population genetics to address management questions with recreational species such as red drum, cobia, and weakfish. In 2012, she became a Masters candidate at the College of Charleston in the Masters of Environmental Studies program and is working to gain a broader perspective of the roles of policy and research in fisheries management.
Tim OíDonnell received his B.S. in Wildlife and Fisheries Science from Penn State in 2010. He completed his M.S. in Marine Biology at the College of Charleston working with the population genetics lab in 2013. His masterís thesis focused on the genetic population structure of and temporal changes in genetic diversity of spotted seatrout in the southeast U.S. from North Carolina to Georgia. He is now a biologist with the SCDNR in the genetics lab and continues to focus on spotted seatrout, with additional involvement in other projects focusing on striped bass and red drum.
Waddell Mariculture Center
Al Stokes is the Manager of the Waddell Mariculture Center and has been involved in aquaculture and fishery management for more than 35 years. Alís time is directed towards managing the centerís facilities and supporting the centerís crustacean and marine finfish research programs.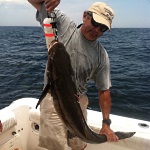 Charles Bridgham received an undergraduate degree in Biology from the College of Charleston and began working for the South Carolina Wildlife and Marine Resources Dept. in 1990 with the Mariculture group. After working for 14 years, he left and moved to Montana and worked for the Montana Fish, Wildlife & Parks Hatchery system for 13 years. While in Montana, he managed Coldwater, Cool/Warmwater, Production and Broodstock facilities. He has considerable knowledge in intensive and extensive fish culture, maturation, larval rearing and zooplankton production. He was worked with numerous species, both freshwater and marine (Rainbow Trout, Brook Trout, Chinook Salmon, Walleye, Northern Pike, Red Drum, Spotted Sea Trout, Black Seabass, Summer and Southern Flounder, Shortnose Sturgeon, Striped Bass and White Bass). He is an avid outdoorsman and enjoys hunting and fishing.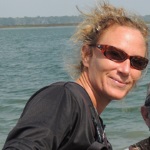 Erin Levesque graduated from Eckerd College in 1996 with a B.S. in Marine Science and completed the Graduate Program in Marine Biology for an M.S. from the College of Charleston in 2000. Since 2000 she has been employed by the Marine Resources Division, first with the Inshore Fisheries section and recently with the Mariculture section. She continues to assist with fishery independent surveys of estuarine finfish, culture of recreational species and a hatchery program for diamondback terrapins.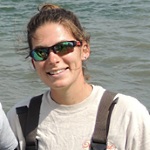 Emily Becker graduated from the University of Rhode Island with a BS in marine biology and MSc in biology, where she focused on the development and function of the lateral line system in fish. After graduating, she gained experience managing and conducting research at commercial, medical, and start-up aquaculture facilities along the east coast. She is currently a biologist for SCDNR at the Waddell Mariculture Center, where she is involved with research surrounding red drum, spotted seatrout, and cobia.