Loggerhead Sea Turtle (Caretta caretta)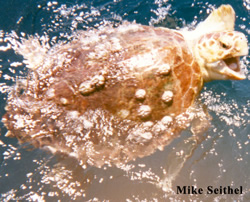 The loggerhead sea turtle, our state reptile, has a rich reddish-brown carapace and yellow plastron. The loggerhead's large skull provides for the attachment of strong jaw muscles for crushing conchs and crabs. Loggerheads usually leave the cold coastal waters in the winter and are often seen along the western edge of the Gulf Stream. The major nesting area for the loggerhead in the western Atlantic is the southeastern United States. In South Carolina, the primary nesting beaches are between North Inlet and Prices' Inlet, but other beaches in the southern part of the state also have moderate nesting densities. These are mainly undeveloped nesting beaches between Kiawah Island and Hilton Head. The nesting season runs from mid May to mid August. The average clutch size in South Carolina is 120 eggs. The average incubation duration is 55 - 60 days. The loggerhead is the most common sea turtle to strand in South Carolina and the nesting population has declined three percent per year since records began in 1980.
On July 28, 1978, the loggerhead sea turtle was designated as threatened. In 1988, a fifth grade class in the town of Ninety Six thought that if the loggerhead turtle was the state reptile, it would bring more attention to the plight of this threatened species and perhaps help conservation efforts. They wrote letters to their state Senator, Mr. John Drummond who introduced a bill in the legislature. They also came as a class and displayed a banner from the balcony of the Senate. The bill passed on the last day of the session.
Loggerhead Sea Turtle Listing Final Rule (2011) - NOAA and the US Fish and Wildlife Service issued a final rule this year changing the listing of loggerhead sea turtles under the Endangered Species Act from a single threatened species to nine distinct population segments (DPSs) listed as either threatened or endangered. Scientists believe this will help focus their sea turtle conservation efforts to the specific needs of the distinct populations. In the final rule, five were listed as endangered (Northeast Atlantic Ocean, Mediterranean Sea, North Indian Ocean, North Pacific Ocean and South Pacific Ocean) and four (South Atlantic Ocean, Southwest Indian Ocean, Southeast Indo-Pacific Ocean and Northwest Atlantic Ocean) as threatened. Scientists found that the Northwest Atlantic Ocean DPS (the DPS that SC loggerheads belong to) is threatened based on review of nesting data available after the proposed rule was published, information provided in public comments to the proposed rule, and further analysis within the agencies. Even so, substantial conservation efforts are underway to address the threats to these DPSs.
The public is also asked to report mating loggerheads to SCDNR. Please follow this link to the mating loggerhead sighting form.
For a more comprehensive review, please read the Loggerhead Sea Turtle Conservation Sheet, Loggerhead Sea Science and Loggerhead State of the Resource.
Loggerhead sea turtle Recovery Plan second revision
Loggerhead nesting facts:
Nesting: May - August
Adult females are greater than 87 cm curved carapace length
Adult males are greater than 83 cm curved carapace length
A single female may lay her nests relatively close (w/n 1 km) or far apart (400 km)
Nocturnal nesters, alternating crawl
Mean number of clutches per season 4.1
Internesting interval: 12-15 days
Remigration interval: 2.5 - 3.7 years
Width of Crawl = 90+ cm
Mean sizes of eggs are 4.1 cm in diameter, 33 g in mass and 36.2 cc in volume
Clutch count 100 - 126 eggs
Incubation duration is 42 - 75 days
In situ hatch success is 65%