Loggerhead Ground Survey Index Nesting Beaches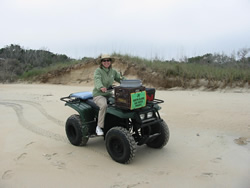 South Carolina has six (6) index beaches that have been conducting standardized ground surveys for loggerhead nests since 1982. These beaches include South Island, Cape Island, Lighhouse Island, Edisto Beach State Park, Edisto Beach, and Fripp Island. Index nesting beaches must meet the following criteria: (1) begin in May and continue through August, (2) occurr daily, throughout the nesting season and (3) survey area is standardized throughout the duration of the nesting of the time period, although smal changes (±0.5 km) in beach length were allowed. Nesting data from Cape Island was included because of its relative importance as a nesting beach in South Carolina and the Northern Recovery Unit.
These beaches represent approximately 44% of the nesting effort. The graph below shows annual loggerhead nest counts on index nesting beaches in South Carolina from 1982 - 2017. The natural trend includes high, medium and low years as sea turtle nesting is cyclical. Sea turtles do not necessarily nest every year but every 2, 3 or 4 years. Recently we have seen an increase in nest counts for consecutive years. Loggerhead nesting in 2016 topped previous years, but was also the highest year on record since 1982. Historical nest counts from the 1970's indicate we still have a bit to go to reach recovery levels but this may be the beginning. Historically speaking, nesting prior to 1982 was relatively much denser in South Carolina with over 2,000 nests solely on Cape Island in the early 1970's. Currently, Cape Island has an average of 1,000 nests per year.