DNR News
April 30, 2015
Learn and Burn workshop lets landowners see prescribed fire benefits up close
A Learn and Burn workshop held recently in Chesterfield County helped local landowners learn more about the benefits of prescribed fire, and also to take part in a hands-on burn.

"Landowners were able to see firsthand that prescribed fire is an effective tool for managing longleaf and can be done safely with proper planning and execution," said Jimmy Lisenby, coordinator of the Sandhills Longleaf Pine Conservation Partnership, which sponsored the Learn and Burn workshop.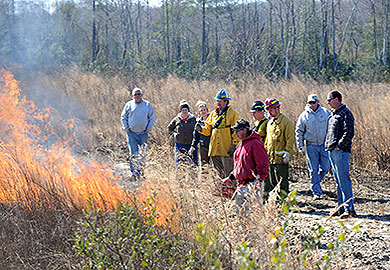 The workshop, held March 6 in Chesterfield, featured talks on the benefits of burning, a brief history of burning and also covered practical aspects of burning such as burn authorization, weather, safety, fuel conditions, ignition and smoke management. A hands-on burn was also conducted on site, with landowners participating. A boxed lunch was provided for landowners after the burn.

Speakers for the Learn and Burn workshop were Johnny Stowe, S.C. Department of Natural Resources forester, wildlife biologist and Heritage Preserve manager, and Brian Davis of the S.C. Forestry Commission.

The Learn and Burn workshop was held on the Griggs Farm. Family member Sue Griggs, who is also the local Soil Conservation Technician for the USDA Natural Resources Conservation Service, said: "It was a great opportunity to be able to host the Learn and Burn and talk to private landowners about our management goals for our property. We were able to show them what we're doing, why it is important to us, and in turn, how it benefits our longleaf ecosystem."

Other organizations and individuals taking part in the workshop were the Natural Resources Conservation Service (NRCS), U.S. Fish and Wildlife Service and consulting foresters Gary Gilreath, Bill Ardrey Forestry and Kiker Resource Management.

As part of the Longleaf Alliance's ongoing efforts to restore longleaf pine forests and savannas for their economic, ecological and cultural values, 17 Local Implementation Teams (LIT) have been established across longleaf's historic range, from Virginia to Texas. The LITs are multi-stakeholder groups that work on-the-ground to restore longleaf pine ecosystems. The Sandhills Longleaf Pine Conservation Partnership is one of three LITs in South Carolina. The Sewee Longleaf Conservation Cooperative and SoloAce Longleaf Partnership are active in the South Carolina Lowcountry.
---
More News