DNR News
April 27, 2015
DNR hosts inaugural Youth Sporting Clay Open
The S.C. Department of Natural Resources (DNR) hosted their first Scholastic Clay Target Sport event at the National Wild Turkey Federation's brand new facility, The Palmetto Shooting Complex, on April 18.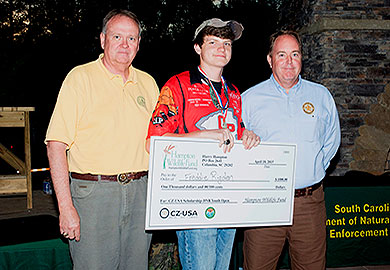 Four hundred-forty shooters from school and club teams from across the state competed in the 1st Annual Youth Sporting Clay Open. There were an estimated 1400 people at the fully funded event which included DNR providing ammunition for each youth shooter and covering other costs. DNR also presented additional prizes, including several firearms, to youth competing in the more than 15 shooting classes.

"The goal of this event was to safely introduce youth to the shooting sports and reward those who participate by offering scholarships to further their academic careers," said Captain Billy Downer, head of DNR Hunter Education. "During the award ceremony at the end of the event, we awarded 22 scholarships representing more than $24,000 to graduating seniors who competed in the competition."

If you are interested in starting a DNR team please contact the State Shooting Sports Coordinator Ryan Bass at BassR@dnr.sc.gov. For more information call 1-800-277-4301.

---
More News