DNR News
July 24, 2015
DNR remembers the fallen: Game Warden Frank Addison Floyd
The S.C. Department of Natural Resources (DNR) formally dedicated a memorial plaque at the foot of the gravesite of Game Warden Frank Addison Floyd on July 23 near Tillman, South Carolina. Taps was played as officers in green saluted their fallen comrade while an American flag was given to family members.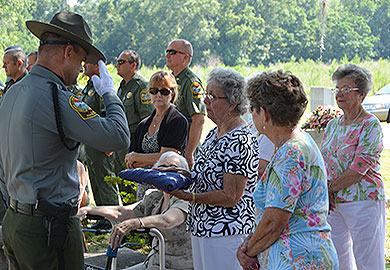 Game Warden Floyd had twenty years experience as a game protector and served as a game warden in Colleton County. He was a law enforcement officer with DNR (then known as the South Carolina Wildlife Resources Department) for seven years from 1942 to 1949.

On Monday July 25, 1949, Floyd, a fellow officer and a plantation manager were at Cherokee Plantation near Walterboro investigating an individual suspected of nighttime deer hunting. As they were approaching the group of hunters, one produced a double barrel shotgun. Warden Floyd called to the suspect, "I am a state game warden; drop that gun," the suspect opened fire with a double-barreled shotgun loaded with buckshot. Warden Floyd was hit in the chest at close range with one barrel, his fellow officer immediately returned fire and injured the suspect, who then fled, but was shortly afterwards found and brought to justice. Warden Floyd was rushed to the Colleton County Hospital. At the age of forty, Officer Floyd lost his life from the injuries he had incurred in the line of duty, leaving his wife and his daughter.

The suspect recovered from his wound, pleaded guilty and was sentenced to life in prison.
---
More News