Alligator Hunting Season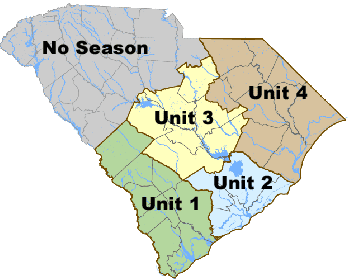 Apply For Alligator Lottery
(June 1 – 5:00pm July 15)
The state is divided in four (4) alligator management units:
Unit 1 - Southern Coastal
Unit 2 - Middle Coast
Unit 3 - Midlands *
Unit 4 - Pee Dee
* All of Lake Marion is grouped into Unit 3.
A hunter can only hunt in the unit for which he/she was selected. You can list the units in ranked priority and the selection will be based upon this ranking.
The 2023 open season is noon September 9, 2023 – noon October 14, 2023 (2nd Saturday in September to 2nd Saturday in October).
Taking of alligators will be controlled by regulation and the instructions on permits.
Alligators must be secured and brought to shore or alongside boat before dispatch. No shooting of free swimming or basking alligators is allowed in this program. No rifles are allowed, but handguns and bangsticks are permitted for dispatch. No bait, baited hooks, set hooks, or pole hunting is allowed (see regulations for more information about methods).
Only one (1) alligator can be taken per permit. Alligator must be four (4) feet or greater in length.
Others may assist permittee, but all participants (including permittee) must be licensed SC hunters.
Alligators may be taken in public waters, but not on Wildlife Management Areas (WMAs) or USFWS Refuges, and on private land where permission is granted. Public alligator season permits cannot be used on lands enrolled in the Private Lands Alligator Program.
Alligator meat can be kept, but not sold. Hides and parts may be sold according to regulation.
Hunter Selection
(Note: there is a $10 non-refundable application fee for all applicants. In addition, if selected, there is a $100 Alligator Hunting Permit fee.)
All hunters will be selected by a random computer drawing. Successful applicants will be issued a permit and one (1) tag that allows them to harvest one (1) alligator in the designated alligator management unit.
Applicants will be allowed to hunt in only one (1) alligator management unit per season.
Applicants can apply for any number of the four management units, including all units. Selecting the same unit more than once does not increase your odds of being selected for that unit. If successful, you will be selected for one unit only.
There is a $10 non-refundable application fee. Unsuccessful applicants will accumulate preference points (see Preference Points section below). By law, the fees collected are used to support the Alligator Management Program's research and management activities, and for conservation of the American Alligator in South Carolina.
Applicants can only apply and pay fees online or at one of the walk-up counters at a DNR Regional Office in Clemson, Florence, Columbia, or Charleston.
Applications will be received online from June 1 through 5:00 p.m. July 15. Note: There is no added benefit in trying to apply early as possible since the selection process does not differentiate between applications received on the first day or the last day of the application period.
Hunters will be notified by their email of selection status generally about one week after the closing of the application period. After notification, successful applicants are then required to go back online to pay the $100 dollar Alligator Permit fee. The Department will begin to send out permits and tags to fully paid applicants within 5 business days of payment notification. Actual delivery of permit and tag may vary based on local US Post Office delivery times. Hunters who fail to pay the $100 permit fee by the end of the Alligator Hunting Season will not receive any preference points and will forfeit any accumulated points. The Department reserves the right to prohibit applicants who fail to pay from participating in future public alligator hunt drawings.
The Alligator Permit fee is non-refundable and non-transferable.
It is illegal to sell, transfer, barter, or attempt to sell, transfer, or barter a public hunt alligator harvest tag. It is also illegal to possess an unused public hunt alligator harvest tag issued to another individual unless the permittee is present.
Successfully drawn hunters who do not pay the $100 fee for the alligator permit in the allotted time will lose the privilege to hunt during this year's alligator hunting season and will not receive a preference point. Any accumulated preference points will be forfeited.
IMPORTANT Note for Nonresident Alligator Hunters
Nonresident Fee
All nonresident alligator hunters are required to pay an additional nonresident alligator hunting fee of $200.00 before going afield. This fee is in addition to the required SC hunting license, application, and permit fee. This fee is valid for participation in any of the alligator hunting programs**
This fee is required of any permitted nonresident alligator hunter, as well as nonresident alligator hunting assistants 16 years of age or older. An alligator hunting assistant is defined as any member of an alligator hunting party who tries to find, seek, obtain, pursue, or diligently search for alligators (i.e. everyone in the boat 16 or older).
Nonresident alligator hunters and nonresident alligator hunting assistants can pay this fee online, or at any normal licensing agent.
**SCDNR cannot refund any application or permit fees.
Preference Points
Preference point(s) increase your chances of being selected for a future alligator hunt drawing. Applicants who are not selected for this year's alligator hunt will accumulate one (1) preference point. Applicants will continue to be awarded one (1) point for every year in which they apply but are not selected for the hunt. Previously, applicants that failed to apply every year would lose their preference points. This is no longer the case.
Preference points cannot be transferred to another person or to a different type of draw hunt (such as waterfowl or deer).
Successful applicants do not accrue preference points towards future alligator hunts. Any accumulated points previously earned revert to zero after being selected.
---