Nuisance Alligators
If you have an alligator-related emergency, call Operation Game Thief at 1-800-922-5431
The presence of alligators alone does not qualify it to be a nuisance, even if it is located in an unexpected place. If left alone, most alligators will move on.
A nuisance alligator is one that has lost its fear of humans (as a result of feeding), may cause harm to people or property, &/or is trapped in a place it's not supposed to be.
Feeding alligators is illegal. Feeding fish, turtle, birds, & other wildlife, as well as disposing of fish guts or carcasses in water bodies alligators may live in, is indirectly feeding alligators and can have the same result.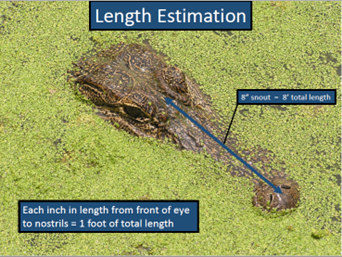 To report a nuisance alligator
Live within an HOA or Property Management group? Report any nuisance alligators to them first.
Do not live in an HOA? Report any nuisance alligators to your regional coordinator
Are you a representative of a Property Management group? Contact your regional coordinator to learn what resources are available to you for managing alligators on your property.
Additional Resources