Meet the Researchers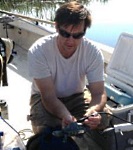 Michael Arendt holds a PhD in Biological Sciences from the University of South Carolina, a MS in Marine Science from the College of William and Mary/VIMS, and a BS in Biology from the Virginia Military Institute. Mike's first interaction with diamondback terrapins involved assisting Rebecca Estep with her terrapin telemetry thesis in Grice Cove in 2001, but he did not begin actively conducting terrapin research until 2013. Mike has quickly become a terrapin aficionado, as evidenced by his passion to ensure that the SCDNR produces a BRD design that can be adopted region-wide.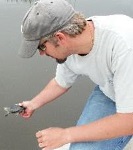 Jeffrey Schwenter holds a BS in Biology from Lake Superior State University and a MS in Marine Biology from the College of Charleston. His thesis research focused on analysis of mercury concentration in various diamondback terrapin tissues. Jeff's passion for working with diamondback terrapins is unmistakable, as his 'terrapin whisperer' personality lights up with every terrapin that he crosses paths with.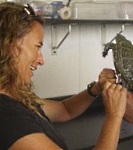 Erin Levesque holds a BS in Marine Science from Eckerd College and a MS in Marine Biology from the College of Charleston. Her thesis research focused on several aspects of population dynamics of diamondback terrapins captured in the Inshore Fisheries Trammel net survey, the basis for collecting long-term data for this species in this survey. Additionally, Erin is the principal investigator for a multi-year research grant focused on terrapin husbandry and juvenile habitat use.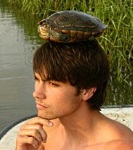 Andrew Grosse holds a BS in Wildlife and Forestry and a MS in Wildlife Biology, both from the University of Georgia. His thesis research focused on population structure and anthropogenic threats faced by diamondback terrapins in Georgia waters. Andrew's passion for capturing and studying diamondback terrapins is equally matched by his publication record, which bodes well for current and future diamondback terrapin research studies that he is involved with at the SCDNR MRD.
Several seasonal staff and volunteers have contributed greatly to diamondback terrapin research conducted by the SCDNR MRD. Among staff, we especially thank Ellen Waldrop, Brooke Czwartacki, Julie Dingle, Austen Pickhardt, and Christopher Evans. More than 20 volunteers contributed in excess of 700 hours since 2013, and we especially thank Morgan Cawley, Emily Shaw, Taylor Cannon, Mackenzi Polk, Courtney Corvino, Katelyn Andrea, and Marie Moore.