Wildlife - Species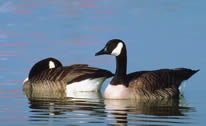 Species Specific Regulations
Canada Geese
Licenses: Hunting License required. Migratory Bird Hunting and Conservation Stamp (Federal Duck Stamp) that is validated by the hunter signing the stamp in ink across the face of the stamp
Limits: Please see Migratory Bird Regulations for any game zones restrictions or Limitations.
Canada Geese (Branta canadensis)
Description
Numerous and popular, Canada geese are often called "honkers." All races have black heads and necks, white cheeks, similar habitats and voices. Sexes are identical.
Average Size
There are several races varying in weight from 3 to over 12 pounds.
Range
Canada geese can be found in all 4 flyways but are the most common in the Mississippi flyway. In South Carolina they are mainly found in the winter months statewide. Some resident populations may remain in the state throughout the year.
Preferred Habitat
Canada geese use a wide variety of habitats near water, including reservoirs, city lakes and parks, irrigation ditches, sewage lagoons, grass fields, lawns, and grain fields.
Food Habits
Canada geese are almost exclusively herbivorous and consume a variety of grasses, sedges, seeds, berries, and grains. These geese will actively consume agricultural grains when available.
Reproduction
Canada geese arrive on the breeding grounds already paired and began searching for a nest site. Geese usually nest on drier, slightly elevated sites near water. The female scrapes a nest bowl into the ground and pulls in surrounding vegetation to complete the nest. The female then lays 2-8 creamy white eggs.
Behavior
Moves well on land and can walk and run with ease.
Highly territorial during the breeding season.
Highly social often found in large flocks.
Citations, Publications and Literature
South Carolina waterfowl hunters 16 and older are required by state law to obtain a state migratory waterfowl permit and Migratory Game Bird permit. Both permits must be in the hunter's possession while hunting or transporting legal waterfowl. A state waterfowl permit is included with the Lifetime Senior, Lifetime Gratis and Disability Licenses. S.C. residents who hold a Lifetime Senior or Lifetime Gratis License are not required to have a Migratory Game Bird permit.
National Migratory Bird Harvest Information Program (HIP)
The waterfowl permits and HIP permits are available from select DNR offices and from hunting and fishing license agents.