Canada Goose Information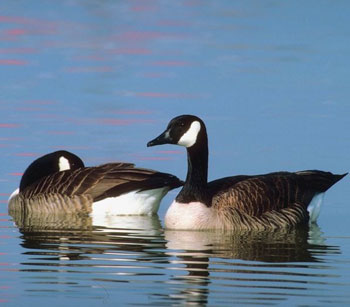 South Carolina is home to three distinct populations of Canada geese at various times of the year. Two groups of migratory geese are found in South Carolina only during the fall and winter in addition to resident geese which remain in the state year-round. The Atlantic population breeds in Northern Quebec and the Southern James Bay population breeds in Ontario. Both migratory populations in the state are small, with the largest concentration located at the Santee National Wildlife Refuge near Summerton. Conversely, the resident population is increasing and remains in South Carolina year round. Resident geese are found throughout the state with the largest numbers occurring in the Upper Coastal Plain, Piedmont and Foothills. The current population estimate for resident geese is in excess of 50,000 individuals.
Resident Canada geese mean many things to many people. The temperament and visibility of resident Canada geese afford people a close look at one of nature's creatures. Conversely, resident Canada geese also create many problems. As both human and resident Canada goose populations have increased in South Carolina, conflicts have increased. Most people tolerate Canada geese; however, as densities increase problems proportionally follow. Concentrations of Canada geese can cause problems by overgrazing lawns and by depositing large accumulations of feathers and feces. Health concerns arise when geese congregate at water treatment facilities and swimming areas. Resident Canada geese may also cause destruction of vegetable gardens or commercially grown agricultural crops such as corn, peanuts and soybeans.
Like all native waterfowl and other migratory birds, Canada geese are protected by the Migratory Bird Treaty Act of 1918 and various other state and federal laws. In accordance with these laws, it is unlawful to hunt, kill, sell, purchase or possess migratory birds, except as permitted by regulations adopted on an annual basis by the Secretary of the Interior. Harassment of geese to disperse them at problem areas is permissible. Resident Canada geese can be hunted throughout much of the state during a special season in September prior to the arrival of the migratory populations and during the general Canada goose season in late fall and winter. For Canada geese season dates and bag limits see the Migratory Bird Regulations.