Bear Hunting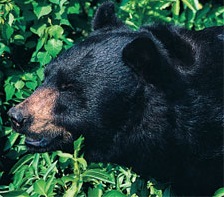 It is unlawful to buy, sell, barter or exchange a bear or bear part or attempt to buy, sell, barter or exchange a bear or bear parts. Transportation of a freshly killed bear or bear part is unlawful except during the bear season. Any person violating these offenses must be fined not more than $2,500 or imprisoned for not more than 2 years, or both, and hunting and fishing privileges will be suspended for 3 years. It is unlawful to feed bears or to hunt bears by the aid of bait (50-11-430, 50-11-440, 50-1-130, 50-1-125). Except on private land in Game Zone 4 only, bears may be hunted over unprocessed bait. Unprocessed bait means any natural food item harvested from a plant unmodified from its raw form to include grains, fruits, nuts, and vegetables.
Downloadable files and applications below are in PDF format.
Bear Tags
For the privilege of hunting bear, in addition to the required hunting license and big game permit, a hunter must obtain a bear tag issued in his/her name at a cost of $25 for residents and $100 for nonresidents. Youth under the age of 16 are required to obtain a youth bear tag from the department at no cost. Bear tags are available over the counter at DNR offices in Charleston, Clemson, Columbia, Florence, and York. Tags can be ordered online.
A handwritten application can be obtained at https://www.dnr.sc.gov/licenses/pdf/speciallicenseapp.pdf.
The possession and use of bear tags is limited to the individual to whom it was issued. Tags must be attached to the bear before being moved from the point of kill.
2022 Bear Party Hunt Application (PDF) - This completed form must be received by September 1, 2022.
---