2006 SC Envirothon: Students Contemplate Climate Change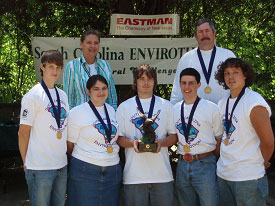 Top Row (l-r): Joy Sullivan, Envirothon Coordinator and Calvert Sherard, Team Coach Bottom Row (l-r): Matthew Dorn, Rachel Brandt, Cody Brown, Hunter Cooper and Pat Shea.
High school students from across the state participated in the 10th annual South Carolina Envirothon Competition held on May 12th. Twenty-one teams registered to test their knowledge of forestry, wildlife, aquatics, soils, and the topic for 2006:"Water Stewardship in a Changing Climate".
After rounds of testing, the final team standing was determined: the Calhoun Falls Team from Abbeville County took top honors in First Place, each team member winning a $500 scholarship. The Spartanburg Vikings from Spartanburg County came is Second Place, winning $250 in scholarships each, and the Strom Thurmond FFA team from Edgefield County came in Third Place, winning $125 in scholarships each. The two teams receiving $75 for Honorable Mention were Blue Ridge High School from Greenville County, and James Island Christian School from Charleston County.
A $50 award was also given to teams that scored the highest in each individual category. Calhoun Falls received an additional $50 for each of the following stations: Aquatics, Forestry and Soils, the Spartanburg Vikings scored the highest in Wildlife, James Island Christian School scored the highest in Oral Presentation, and the Academic Magnet School, also from Charleston County, scored the highest in the 2006 topic of Water Stewardship in a Changing Climate.
Congratulations are extended to all of this year's Envirothon participants!
The Calhoun Falls team will go on to compete at the Canon Envirothon hosted by Manitoba, Canada from July 23rd -29th.