Conservation Focus Areas
The Focus Area concept was born with the ACE Basin Focus Area, named for the Ashepoo, Combahee and Edisto Rivers, in the mid-1980s by private landowners concerned about the protection of waterfowl and their habitat. The ACE Basin Task Force was born through collaborative partnerships with the South Carolina Department of Natural Resources (DNR), Ducks Unlimited, the Nature Conservancy, the U.S. Fish and Wildlife Service and private landowners who joined together with a common desire – to protect the natural character of the landscape through sustainable management on private and public lands, ensuring that traditional land uses such as farming, silviculture, hunting and fishing would continue for generations to come. To accomplish this goal, the task force took into account the existing land uses, environmental pressures and community needs.
Today, there are twelve Focus Areas designated in the North American Waterfowl Management Plan for the Atlantic Coast Joint Venture. Many of these Focus Areas, such as the ACE, COWASEE, Santee, and South Lowcountry, have expanded their horizon beyond solely waterfowl protection, but to establish these conservation networks with private landowners, non-government and government entities to work together to protect lands and connect them for wildlife and efficient management efforts, such as prescribed burning or controlling invasive species, by way of conservation easements, land donations to government entities, and fee acquisition of properties.
The goal of these focus areas is very much the same of the foundational ACE Basin Task Force; however, the pressure of development and alteration of existing landscapes to non-traditional uses has increased.
---
Click below on the Focus Area to find out more information. Please note, not all Focus Areas have web information available.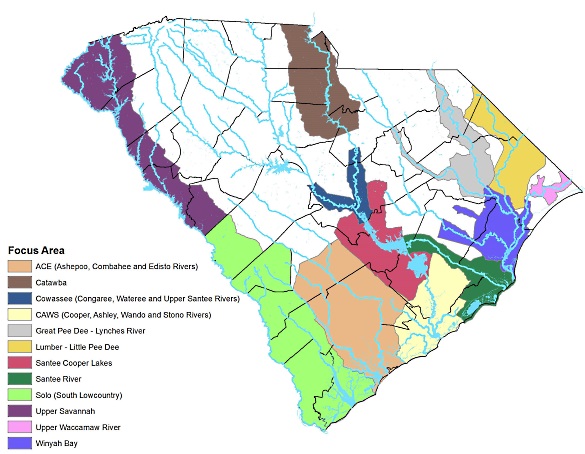 Focus Areas in the News