Office of Environmental Programs - Office Responsibilities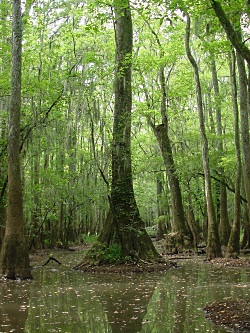 Although SCDNR has no regulatory authority, the Office of Environmental Programs (OEP) serves to provide science-based and balanced input on to various regulatory agencies publishing and evaluating permits and license applications during public commenting periods. SCDNR's OEP is tasked to create a unified voice for the agency relative to proposed environmental impacts fulfilling its statutory role as the principal advocate for the state's natural resources.
A wide range of environmental issues are reviewed and commented on by OEP staff including:
Permit application review: The OEP monitors public notices of permit applications submitted to state and Federal agencies. State permits and certifications issued by the South Carolina Department of Health and Environmental Control (DHEC) include Clean Water Act (CWA) Section 401 Water Quality Certifications, mining permits, State Navigable Waters Construction Permits, Coastal Zone Consistency Certifications and Critical Area Permits issued by the DHEC Office of Coastal Resource Management (OCRM), CWA Section 208 certifications for wastewater treatment facilities, and CWA Section 303 Non-Point Discharge Elimination System (NPDES) permits for point source discharges, and other miscellaneous permits. Pre-project notifications are also received from the State Clearinghouse and South Carolina Department of Transportation (DOT). Federal permits include CWA Section 404 permits issued by the United States Army Corps of Engineers (USACE) for dredge and fill activities in waters of the US, and Navigable Waters Permits issued by COE under Section 10 of the Rivers & Harbors Act of 1899.
FERC: There are approximately 30 hydroelectric projects in South Carolina licensed by the Federal Energy Regulatory Commission (FERC) and DNR staff participate in FERC proceedings to issue and renew licenses to the various utilities who manage these projects. SCDNR addresses issues affecting water management, fish and wildlife resources, navigation and public recreation. Other FERC-related activities that require SCDNR input and support include administration of Mitigation Trust Funds, participation in annual operations inspections, annual review and commenting on implementation plans, commenting on modifications to project operations such as major draw-downs, recreational assessments, shoreline management planning, water quality assessment, diadromous fish restoration, habitat enhancement programs, low flow protocols and drought management.
The Comprehensive Environmental Response, Compensation, and Liability and Oil Pollution Acts (CERCLA): CERCLA as amended by the Superfund Amendments and Reauthorization Act (SARA), CWA, and the Oil Pollution Act of 1990 includes DNR to have Natural Resource Trustee (NRT) responsibilities. OEP staff is engaged in various stages of the remedial investigation, clean-up, and restoration of contaminated terrestrial and aquatic habitats at eight Superfund sites in coastal SC. OEP staff work cooperatively with the other state and Federal agency NRTs, including DHEC, National Oceanic and Atmospheric Administration (NOAA), and US Fish and Wildlife Service (FWS), to develop a technical basis for settling Natural Resource Damage Assessment (NRDA) claims for several of these sites. Staff also are involved in NRT activities related to oil spills. These include participating in Shoreline Clean-up Assessment Teams (SCAT) immediately following spills, contributing scientific expertise to the development of NRDA claims, and developing restoration projects to compensate the public for injuries to trust resources.
Mitigation: When impacts to the environment cannot be avoided, mitigation and compensation measures must be identified in accordance with NEPA, the Federal Power Act and the CWA. Policy must be reviewed and updated to ensure environmental damage is evaluated reasonably and scientifically and mitigation or compensation is identified in a fair and consistent manner. OEP staff participate in numerous activities regarding mitigation and mitigation banking. In February of 1995, a process was initiated to develop statewide guidance on the establishment and operation of mitigation banks in SC. The outcome of these efforts was the development of a document entitled Joint State/Federal Administrative Procedures for the Establishment and Operation of Mitigation Banks in South Carolina. An interagency group of federal, state, and local regulatory and resource agencies known as the Interagency Review Team (IRT) was also established. OEP staff represent SCDNR on the IRT and play an active role in all its functions including the review of mitigation banking instruments and monitoring reports, site visits to potential mitigation banks and to existing banks for monitoring. With the assistance of OEP staff, the IRT has developed specific guidance on a number of issues, including bank siting, standards for establishing mitigation credits and debits, fee based mitigation and the use of preservation banking. SCDNR also has been identified by the regulatory agencies as an appropriate long-term steward of mitigation sites which require protection in perpetuity as a condition of issued permits. Several mitigation sites have been transferred to the agency and protected under the corpus of the SC Heritage Trust Act. The goal of SCDNR in mitigation long-term stewardship is to protect such properties while maintaining restored and enhanced features, and to provide traditional public uses such as hunting and fishing, and a wide variety of compatible non-consumptive public recreation opportunities.