Fishing Creek Reservoir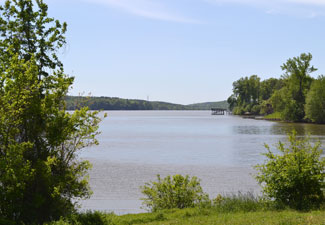 Fishing Creek Reservoir is located on the Catawba River approximately 9 miles southeast of Lancaster, SC. Considered a "run-of-the-river" lake, its size is approximately 3,431 surface acres with little storage capacity. Heavy amounts of floating debris are frequent and numerous shallow water areas can make boating hazardous. Thereore, extreme caution should be exercised. Duke Energy and the South Carolina Department of Natural Resources (SCDNR) maintain two boat access areas.
Created in 1916, the reservoir provides hydroelectric power through Duke Energy's Fishing Creek Hydroelectric Station dam, known locally as the Nitrolee Dam.
The SC DNR manages the lake for recreational fishing and maintains five fish attractors. Popular sport fish on Fishing Creek Reservoir include black crappie, striped bass, largemouth bass, bream and catfish. The SC DNR monitors these species on a regular basis and also stocks striped bass regularly, to maintain a healthy population.
General Information
Miles of Shoreline: 85.1
Acres of Surface Water: 3,431
Counties Lake is Within: Chester, Lancaster
Maximum Depth: Approximately 100 feet
Boat Ramps: 3
Fish Attractors: 5
Fishing Access Locations: 1
Fishing Loaner Tackle Locations: None
Owned and Managed by: Duke-Energy