Lake Secession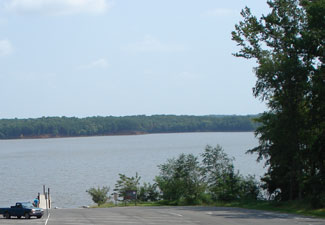 Lake Secession is a 1,450 acre reservoir located in Abbeville County. Construction of Lake Secession Dam (Rocky River Dam) was a WPA project completed in 1940 by the City of Abbeville. Lake Secession Dam impounds waters of the Rocky River for approximately six miles. The lake is situated downstream of Broadway Lake on the Rocky River, with the Secession Dam being near the backwaters of Lake Richard B. Russell. Lake Secession has a storage capacity of 25,650 acre-feet at normal pool elevation, and serves as storage for a 2.8 megawatt hydroelectric station. The lake extends approximately 6 miles along Rocky River.
Lake Secession is a eutrophic (fertile) lake, which provides a popular sport fishery for warm-water game fish. Secession maintains an excellent fishery for black crappie and largemouth bass. The Lake Secession black crappie fishery is of particular note, and is locally acclaimed as one of the best crappie fisheries in South Carolina's upstate. The lake also supports good fishing for catfish and bream (redear and bluegill). Secession maintains the rare opportunity for a seasonal (spring) fishery for white bass in the headwaters of the lake.
Public access to Lake Secession is attained at the Highway 184 Access near the upper reaches of the lake.
General Information
Miles of Shoreline: 52.28
Acres of Surface Water: 1,425
Counties Lake is Within: Anderson, Abbeville
Average Depth: no data
Maximum Depth: no data
Boat Ramps: 1
Fish Attractors: 2
Fishing Access Locations: 2
Fishing Loaner Tackle Locations: none
Fish Stocking
Owned and Managed by: City of Abbeville