Lake Wylie
Lake Wylie is located between Rock Hill, SC and Charlotte, NC on the border between South Carolina and North Carolina. Its size is 12,177 in total acreage, with 7,316 acres in SC. Duke Energy, in cooperation with the SC Department of Natural Resources (SCDNR) and York County, SC, maintain five public boat access areas in South Carolina. Bank fishing access is also available at Ebenezer County Park in York County.
First created in 1904 by a dam near Fort Mill, SC, Lake Wylie is one of the oldest reservoirs in South Carolina.
The dam was rebuilt in 1924 and the lake's surface expanded to approximately 13,443 acres and 325 miles of shoreline. In 1960 the reservoir and hydroelectric facility were renamed in honor of Dr. W. Gil Wylie, who organized the Catawba Power Company, a predecessor of Duke Energy. In addition to supporting Wylie Hydroelectric Station, Lake Wylie also supports Allen Steam Station and Catawba Nuclear Station with cooling water and provides a dependable water supply for Rock Hill, SC and Belmont, NC.
The SCDNR manages the lake for recreational fishing and maintains six fish attractors. Popular sport fish on Lake Wylie include largemouth bass, crappie and catfish. The SC DNR monitors these species on a regular basis to maintain a healthy population.
General Information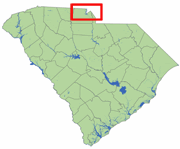 Miles of Shoreline: 227.86 in SC (325 total)
Acres of Surface Water: 7,316 in SC (13, 433 total)
Counties Lake is Within: York
Maximum Depth: Approximately 94 feet
Boat Ramps: 4
Fish Attractors: 6
Fishing Access Locations: 2
Fishing Loaner Tackle Locations: None
Marinas with Pumpouts: 3
Owned and Managed by: Duke-Energy