Diadromous Fish Research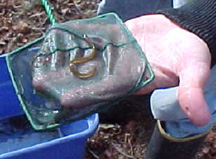 Elver (baby eel)
Photo by B. Post - SCDNR
Eel Sampling
Young-of-Year Abundance Surveys for elvers (baby eels) are conducted annually as prescribed by the Atlantic States Marine Fisheries Commission (ASMFC). The selected site is in Goose Creek, a tributary of the Cooper River. Historically, the Cooper River has been a major producer of elver/ glass eel harvest in the State.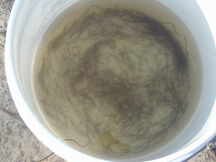 Elvers (baby eels) captured in fyke
net.
Photo by B. Post - SCDNR
Sampling is conducted using a staked fyke-net for a six-week period, with sample catches taken four days per week from 28 January through 7 March. The fyke-net is staked with the trap end upstream and with wings extended from one bank to approximately two-thirds stream width. The gear is staked in a position where the major portion of the elver run was believed to pass and in a manner by which the entire water column would be fished.
For more info contact: Allan Hazel (843-953-9006)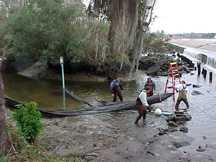 Field crew setting up fyke net.
Photo by C. Hendrix - SCDNR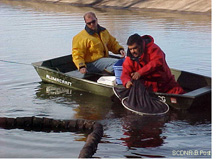 Crew removes elvers from net
Photo by B. Post - SCDNR