Diadromous Fish Research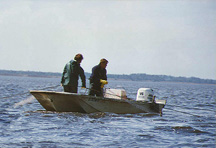 Commercial shad fishermen pulling net
Photo by A. Hazel - SCDNR
Fishery-dependent Shad Sampling
The season for commercial shad fishing is open from January 15th to April 30th (depending on river system).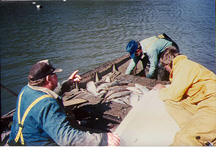 Biologist sampling commercial shad catch
Photo by A. Hazel - SCDNR
SCDNR is required by the Atlantic States Marine Fisheries Commission (ASMFC) to conduct fishery-dependent sampling for American shad. Field crews sample commercial fishermen's catch (200 fish) throughout the open season.
Measurements, weights, and sex are recorded. Also, scale samples are taken from each fish. This information is used to generate age frequencies, sex ratios, and monitor the overall catch trends.
For more info: contact Bill Post - (843)953-9821.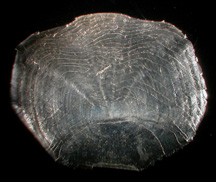 Shad Scale
Photo by S. DeVictor - SCDNR
Commercial shad catch
Photo by B. Post - SCDNR