Muricea pendula Verrill, 1864

Muricea pendula Verrill, 1864a:45.
Remarks. Muricea pendula displays branching that is in one plane and pinnate, with the twigs turning upward at nearly a right angle. Colonies may attain a large size (up to 0.5 m) and take on a fan-like form. The prominent calyces may be spread out around the base of the colony and are quite crowded near the tips. This species displays the strong opercular armature indicative of the genus Muricea. When the polyps are retracted, the large (up to 1.5 mm) calycular spindles extend beyond the operculum creating a spiny or shelf-like effect to the calyces. The large spindles are warty and may have one side that has numerous small spines. Smaller acute, warty spindles and radiates are found in the body wall, particularly near the base or coenenchyme surrounding the axis. The colony is a dark magenta to bright red when alive, and a dark to dull orange when preserved or dried. The sclerites are orange.
There are numerous lots of this species in the NMNH from the shallow SAB.
Atlantic distribution: North Carolina to Florida Keys; Gulf of Mexico, 13-125 m (Deichmann, 1936; Bayer, 1961; NMNH collections; SERTC collection).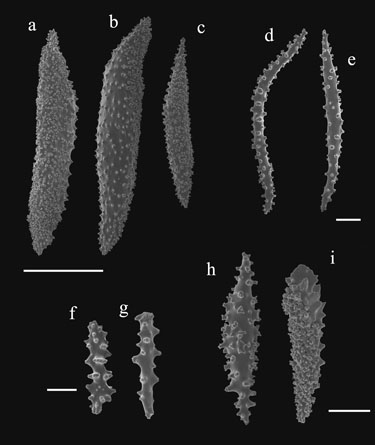 Figure 4. Muricea pendula (S1328); a-c) large spindles from operculum (scale bar = 500 µm); d,e) elongate spindles from coenenchyme (scale bar = 100 µm); f, g) small spindles from inner coenenchyme (scale bar = 50 µm); h, i) spindles from coenenchyme (scale bar = 100 µm)

Figure 1. Muricea pendula, live specimen (S1328), whole colony (approximately 30 cm in height).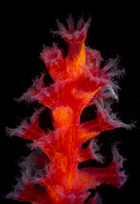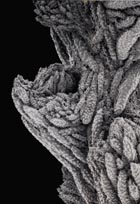 Figure 2 (left). Muricea pendula live specimen (S1328), stem tip with expanded calyces.
Figure 3 (right). Muricea pendula, preserved specimen (USNM 49748), showing orientation of sclerites in operculum and coenenchyme (image taken at 50x, F. Bayer/ NMNH).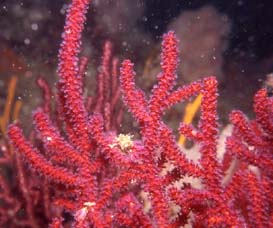 Figure 4. Muricea pendula in situ.