Scleracis guadalupensis (Duchassaing and Michelotti, 1860)

Acis guadaloupensis Duchassaing and Michelotti, 1860: 20, Plate 1 figs. 14-15.
Remarks. Scleracis guadalupensis forms small colonies dichotomously branching in one plane. The specimens examined for this work had a stem width of 1-2 mm and height of a maximum of 4 cm. The cylindrical calyces are very prominent, tending to be biserially arranged along the sides of the stem, but in a twisted manner. Near the opening of the calyces there is an armature of small, warted spindles, and towards the stem the spindles become large (1-3mm) and are orientated longitudinally. The large spindles are densely scattered with fine, spinous warts, except near the acute tips where the warts may become sparse. The examined specimens are coral red in ethanol, but white colonies have been reported (Bayer, 1961).
Atlantic distribution: Bermuda, North Carolina, Florida, Gulf of Mexico, 18-184 m; Bahamas, 600-715 m; Mexico, 174-348 m; Caribbean, 50-358 m; Costa Rica, 55-69 m; Brazil, 110 m (Deichmann, 1936; NMNH collections).

Figure 3. Scleracis guadalupensis sclerites (USNM 61244): a) large spindles from outer coenenchyme (scale bar = 0.5mm); b) small coenenchymal spindles (scale bar = 100 µm); c) small rods from operculum (scale bar = 50 µm).

Figure 1. Scleracis guadalupensis branches, preserved specimen (USNM 61244).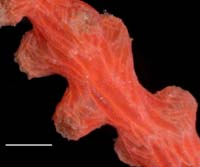 Figure 2. Scleracis guadalupensis calyx, showing large spindles in coenenchyme (USNM 61244). Scale bar = 1mm.