Purchase Your Endangered Species Sea Turtle License Plate Today!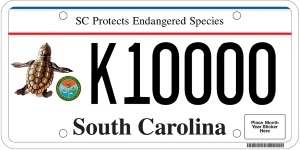 The SCDNR Marine Turtle Conservation Program is responsible for managing and protecting sea turtles in South Carolina. Show your support for endangered and threatened species with the purchase of an Endangered Species Specialty License Plate. The design features a loggerhead sea turtle hatchling making its way to the ocean. The hatchling design represents many months of turtle nest protection efforts and is dedicated to the thousands of South Carolina residents that volunteer their time in support of the SCDNR endangered species conservation programs. Funds from the sale of the license plate will go to the SCDNR and will be used to help protect South Carolina's endangered and threatened species.
The design was painted by artist Ellen Fishburne using a photograph of an actual loggerhead hatchling on the beach at the Isle of Palms in South Carolina. Barbara Bergwerf, a retired professional photographer and SCDNR sea turtle program volunteer, shot this photo one early morning during a nest survey.
The cost of the plate is $30 every two years, in addition to the regular registration fee. To purchase this one-of-a-kind license plate, visit any South Carolina Department of Motor Vehicles location, call its main office at (803) 737-4000 in Columbia or visit its website at www.scdmvonline.com.
Help promote SC's Endangered Species Sea Turtle License Plate