Research - Reducing impacts of abandoned crab traps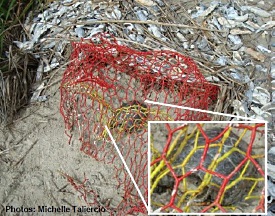 Abandoned crab traps pose a serious threat to wildlife both in and out of the water, due to the efficient ability of these devices to "trap" animals. Programs to remove derelict crab traps from the environment document the ability of these "ghost" traps to capture several dozen species other than the target crab species. Various programs remove thousands of abandoned traps annually, about a third or more of which contained trapped animals. Clearly this is a problem that requires a solution that is greater than simply cleaning up the mess, even when abandoned traps are repurposed for good uses such as providing substrate for oyster reefs to grow.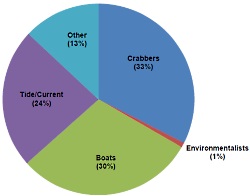 In 2014, the SCDNR MRD received a one-year grant from the National Fish and Wildlife Foundation (NFWF) to survey commercial crabbers in South Carolina to better characterize the rate of derelict trap generation and sources of trap loss. Three main sources of trap loss were indicated by 92 commercial crabbers located across the entire coastline, with boat strikes accounting for nearly one-third of annual losses. Although these crabbers only lost about 1% of their traps annually, when scaled to the number of traps fished across the state this represents nearly 2,000 lost traps each year.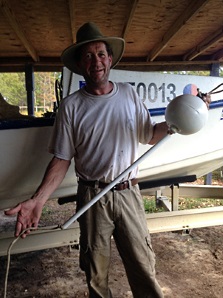 In 2016, the SCDNR MRD received a two-year grant from NFWF to continue efforts to reduce the generation of derelict crab traps. The first part of this new grant involves working with commercial crabbers to evaluate the 2014 'best design' to ensure that it is practical as well as functions properly under real-world scenarios. In fall 2016, a total of 285 float riggings were provided to 29 crabbers located between Beaufort and Little River. Initial perception of the float design was very favorable, with some crabbers providing evidence that the floats had actually prevented trap loss following boat strikes.
Other crabbers, however, indicated that the floats increased drag in areas of high current and at least one trap was subsequently lost. Feedback the first round of evaluation will be incorporated into float materials distributed to crabbers in 2017; if you are interested in receiving these free materials to participate in this evaluation study, please contact us (arendtm@dnr.sc.gov; 843-953-9097).
The second component of the new two-year NFWF grant is to conduct outreach with recreational boaters across the coastal waters of South Carolina to
gauge their perception of the role that recreational boaters play in creating derelict crab traps,
document the frequency of and the circumstances that lead to crab trap line entanglements,
use that information to work with crabbers to minimize entanglement probability, and
encourage greater boater awareness on the water.
To learn more about the negative impacts of derelict crab traps and what you can do to lessen them when enjoying a fine Carolina day on the water, please watch our short "B-WARE" video.